Chook & Sosig: Walk the Plank Review
A simple point-&-click adventure packed with charm (and a few goblins)
Category: Reviews
Written by: Graham Thomas on June 20, 2019
Developed by: TookiPalooki
Published by: Armor Games Studios
Release Date: June 18, 2019
Genre: Point-&-Click Adventure
Platform: Windows, Mac OS/X
*Minor spoiler herein*
Chook and Sosig: Walk The Plank is a short and sweet little point-&-click adventure game developed by a single-person developer, TookiPalooki.
You're Sosig, a lanky blue cat who has just sat down to a round of Dungeons & Dragons with his cast of oddball friends. There's a dog named Hebble, a pig named Min, a cow named…er…Cow, what I think is a demon (?) named Exley, and Chook, a ghost-chicken. Exley, the Dungeon Master, insists we all stick to the theme this time. Which is pirates. But also some goblins, because she has a lot of extra goblin pieces. But no dragons. Definitely no dragons. (Spoiler: there's a dragon).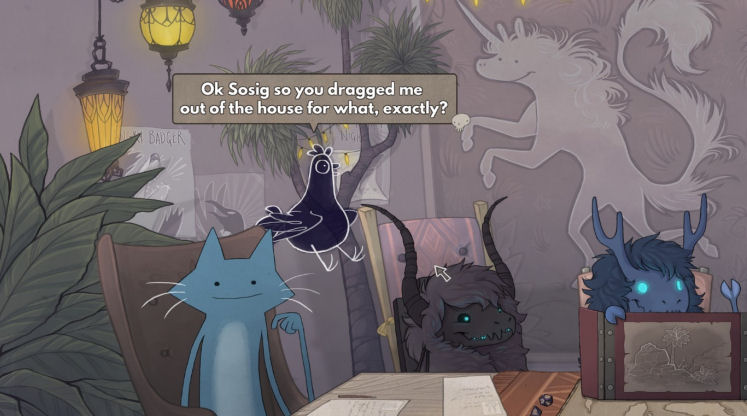 As Sosig, you're the star of the adventure, taking on a quest to find the hidden haunted treasure. To find it, you'll have to solve some simple puzzles and interact with a bunch of different characters in this very-piratey and only a little-bit-gobliny roleplaying fantasy-world, all populated by the ensemble cast of your friends, who will repeatedly break the fourth-wall to comment on how their roleplaying is going. Gameplay is a pretty standard point & click affair. You traverse a bunch of locations, picking up and interacting with items and characters to further your goal of finding the treasure. Every now and then the adventure will be interrupted, as your friends insist on arguing about how the roleplay is unfolding, and how their characters should behave.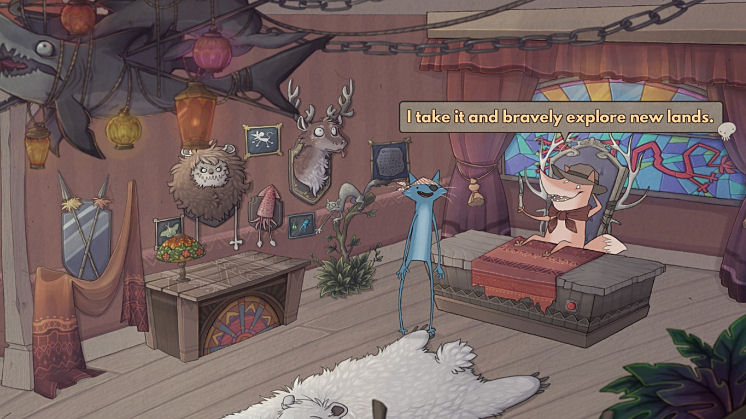 It's all really cute stuff. Chook & Sosig oozes charm, and you can tell that its creator has put all sorts of love into this. The illustration in particular is top notch. I'm talking, "This should actually be an animated series" level top notch. Everything about the environments and the characters are brimming with personality and color, and the quirky music bops along cleverly, shifting thematic gears when new areas are visited. Aesthetically, this is just a really nicely crafted adventure game, one with the kind of production values you might expect from a much bigger studio.
The puzzles are pretty simple stuff, however, and I felt they could have used a little more thought and polish. There's a few too many of what I think of as 'pseudo-puzzles' – the ones where you just have to talk to someone to get the item you need, or where you pick up the thing and use it directly on the problem. While some of the puzzles require a little thought, there's really nothing that's likely to tax even the beginner adventure gamer here. If you do get stuck, though, Chook acts as a kind of in-game hint-system because he can "read what Exley is writing over his shoulder" and knows what's going to happen in the adventure. A nice touch.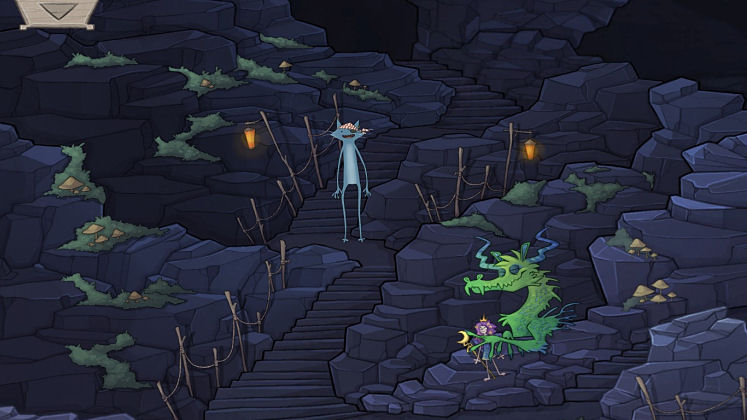 But not everyone needs challenging puzzles from an adventure game experience. And Chook & Sosig really just wants to give you an excuse to hang out for a couple of hours in its beautifully imagined world with its cast of kooky misfits. Despite being a little pricey for the short playtime, coming in at just on two hours; and despite lacking a little bit of edge (it's perhaps a bit too safe and wholesome at times), it's a world worth checking out. I would love to see it fleshed out into something bigger, with a story and some carefully crafted puzzles. It has all the right ingredients for a classic adventure game series, but at the moment its scale and length left me a little bit unsatisfied. At the end of the day, though, this was mostly because I was so taken with the game's aesthetic that I just really wanted more.
From what I can tell, this is TookiPalooki's first full game. It's a very impressive debut for a sole developer. Hopefully, we can expect lots more from her in the future.
Grade B
+ Beautifully illustrated and lovingly crafted
+ Quirky off-beat characters
+ Soundtrack bops!–  Simple puzzles
– Very short
– Some longish loading times between areas
System Requirements

MINIMUM Windows:
OS: Windows 7/8
Processor: 2 GHz (Dual Core)
Memory: 4 GB RAM
Graphics: GeForce 610 1GB RAM or equivalent
DirectX: Version 9.0c
Storage: 8 GB available space
Sound Card: Any
Additional Notes: Mouse required
MINIMUM Mac:
OS: Mac OS X 10.6
Processor: 2.33 GHz or faster processor
Memory: 4 GB RAM
Graphics: Any GPU that support Pixel Shader version 2.x or above
Storage: 8 GB available space
Sound Card: Any
Additional Notes: Mouse required