The Painscreek Killings Review
Use your investigative skills to discover the secrets of Painscreek in this 3D adventure from EQ Studios
Category: Reviews
Written by: Cindy Kyser on June 19, 2019
Developed by: EQ Studios
Published by: EQ Studios
Release Date: September 27, 2017
Genre: 3D Detective Simulation
Platform: Windows
Although many players eagerly await the newest adventure games, sometimes it is worth it to circle back through less recent titles. Often, there are wonderful games that I missed completely when they first arrived on Steam. Although The Painscreek Killings (TPK) has been out since late 2017, it was a recent find for me. Without a doubt, it is a game worth putting on your radar if you are an adventurer who likes a complex story and who takes pleasure in solving a mystery.
TPK is the first game to be released by EQ Studios – a small indie team based in Las Vegas, Nevada. The group formed in 2006 to develop 3D content for clients. In 2012, they began focusing on their own game and the result is remarkable.
You play from the first person view of Janet Kelly – an investigative reporter for the fictional Hartford Times. Following reports that the town of Painscreek is about to be auctioned off, you have been assigned to take a final look at the unsolved murder of a local businesswoman, Vivian Roberts. Your editor hopes that you can shed light on the crime, identify the killer, and submit a winning news story. The town has been abandoned for some time, so your only course of action is to go there and sift through what has been left behind in hopes of finding new information.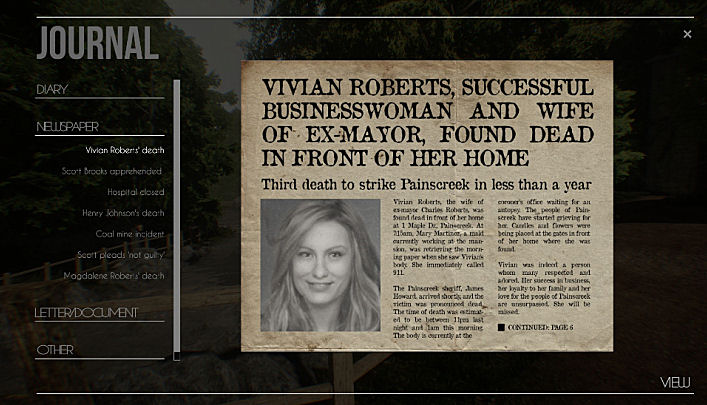 TPK begins outside a locked gate on the outskirts of Painscreek. Once you puzzle your way in, your next challenge is to figure out what to do next. In this game, there is no right answer. You just start exploring until you find an area of interest. For me, this was the local Inn, which happens to be the first accessible building I encountered. I began a room-to-room, drawer-by-drawer search and found my first clues. Like Gretel following Hansel's trail of breadcrumbs through the woods, each tidbit I found led to the next. However, the emerging path is not a straight line. Instead, the clues begin to branch out into separate story threads and I soon had a growing list of people, places, and things to learn more about.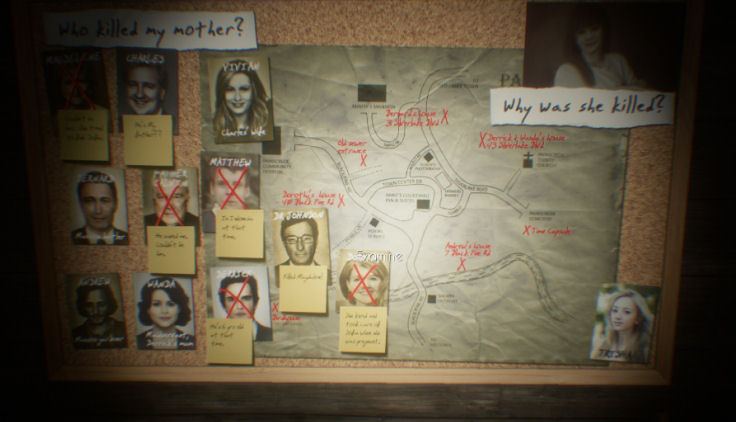 The complete lack of structure in TPK is a bit disconcerting at first. I expected the story to emerge and drive me in a predefined direction. I flailed around for a bit until I understood that I was on my own and that I was responsible for setting my own course. I also recognized that my game experience was mirroring what might occur if this were a real-life assignment. An empty town of (mostly) locked buildings, no witnesses to interview, and an editor breathing down my neck. And I thought my job was stressful!
The town of Painscreek is created in great detail with homes, businesses, a church, a hospital, a park, a cemetery, and a sewer system. It is a lovely town that is bordered by a river. It has the feel of a planned community with consistent architecture that feels more European than American. A map of the town is available to help you get your bearings. Additional maps can be located for the more complex buildings and for the sewer system. Houses are not numbered as one might expect. so finding a specific address often requires some serious detective work through back alleys. After a few hours, I knew the streets by heart and was zipping around as if I had lived there for years.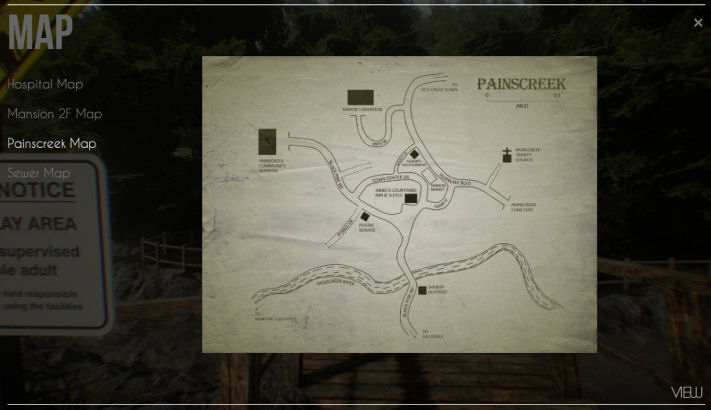 As you search the town, you find a wealth of history and information in the form of letters, newspaper articles, and diaries. It becomes clear that Vivian Roberts is not the only resident to die under suspicious or tragic circumstances. You also find odd scraps of paper, post-it notes, and photos. And then there are the keys…lots of them! When confronted by a locked door or desk, it is best to make a note of it and move on. More often than not, the required key or code would surface when I least expected it. Likewise, if I had a piece of information that did not make sense, its meaning would become apparent as my investigation proceeded. The trick with TPK is to just keep following the bread crumbs and more will be revealed.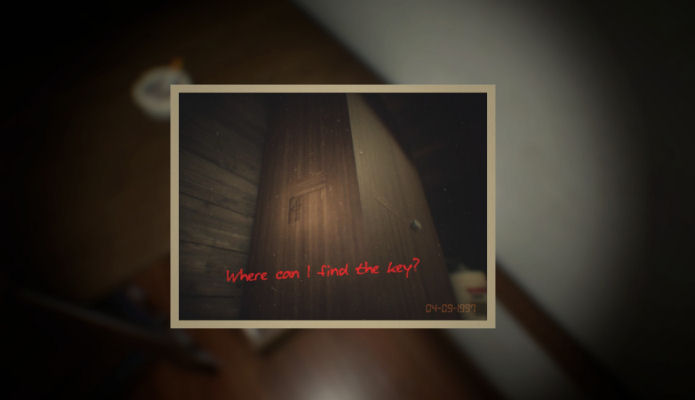 Built with the Unity Engine, the game uses the WASD keys with the mouse for navigation. You are provided with all the tools needed for detective work. You have a camera for photographing items of interest; a journal that automatically stores diaries, letters, and other relevant information you will need as reference material; maps; and an inventory for carrying items like keys and tools. This interface, coupled with my own pencil and paper, allowed me to effectively track the results of my investigation.
TPK saves automatically as you transition between areas. It also saves on exit from the game. To be on the safe side, I would exit a building and wait for the auto-save to complete before quitting back to the main menu. With this strategy, I never lost progress.
Suffice it to say that Painscreek is a town with secrets. You uncover a story of betrayal, jealousy, revenge, and (ultimately) murder. The seemingly unrelated plot threads come together to form a cohesive story in the end.
The game's final sequence is triggered by a finding a specific piece of evidence. Once the end game starts, a message appears that there are "no saves beyond this point" and the pace picks up a quite a bit. In a heartbeat, you transition from thoughtful explorer to a woman running for her life. Adventure purists should not be concerned – if you are paying attention, your path to safety is indicated by clues.
I was delighted to discover that EQ Studios performs the last auto-save prior to the decisive moment. This means that I could exit the game and come back to wrap up some loose ends before choosing to play through the ending.
Despite spending 12+ hours in Painscreek and successfully completing my reporting assignment, my Steam achievements are sitting at 73%. I did not find all the letters, newspaper articles, or diaries. If I am so inclined, the last auto-save allows me to return after completing the game and search for the missing items. Once my Steam achievements are more respectable, I can then replay the ending for a final "game over." For those who need assistance, there is a comprehensive game guide posted on Steam that can be used to figure out what you are missing. It is written in a way that allows you to get specific answers without spoiling the game experience and I admit referencing it on several occasions.
To sum it up, I really enjoyed this game. Finding clues and following the breadcrumbs was extremely satisfying and I loved how everything came together in the end. I can only begin to imagine the story board that must have been required to keep track of all the items, locations, characters, and relationships during the development process. EQ Studios has done an exceptional job of creating an interesting investigative experience that feels real with The Painscreek Killings.
Grade A
+ Intuitive interface that provides a full set of investigative tools
+ Well-organized story with an ending that ties all loose ends together
+ Graphics and music come together to fully engage the player– Requires an eye for detail and the ability to mentally manage quite a bit of information
– Gamers who are more comfortable with a structured game experience may want to look elsewhere
Trailer:

System Requirements

MINIMUM Windows:
OS: Windows 7/8/10 64-bit
Processor: i3-2120 @3.3GHz
Memory: 8 GB RAM
Graphics: NVIDIA GTX 745 (or AMD equivalent)
DirectX: Version 11
Storage: 11 GB available space
Additional Notes: *Subject to change after updates