Gibbous: A Cthulhu Adventure Review
Do you dare laugh at the call of Cthulhu? Read on and find out!
Category: Review
Written by: Erik Parkin on August 5, 2019
Developed by: Stuck in Attic Studios
Published by:  Stuck in Attic Studios
Release Date: August 7, 2019
Genre: Point-and-Click Comedy Adventure
Platform: Windows, Mac, Steam OS/Linux
Many iconic Horror stories, whether its  Mary Shelly's Frankenstein, Bram  Stoker's  Dracula, or Robert Luis Stevenson's The Strange Case of Dr Jykell & Mr. Hyde, all begin the same way. The heroes always reach for something beyond their grasp and  fail. From that failure rises catastrophe. The artists at Stuck in Attic Studios reached too. When they conceived their new game,  Gibbous: A Cthulhu Adventure, they sought to create something that would place their own indelible mark on H.P. Lovecraft's beloved mythos. Unlike those tragic heroes,  they succeeded brilliantly!
The creators of this game understood a key truth of emotion. Humor is a tonic to fear. This game is funny! Recognizable elements of Lovecraftian lore are present: The Haunter, Dagon, Cthulhu, but they are illuminated with a humorous light which effectively dilutes the horror they evoke while taking pains not to blind the player to their importance to the lore, or their place in the story itself. The humor makes the game accessible to people who may not care for horror while still appealing to Cthulhu's loyal followers. This alchemic union between the opposed feelings of humor and fear is the source of the story's strength. The legendary alchemist Nicholas Flame himself couldn't have improved upon it.
The story begins when private investigator Don R. Ketype is hired by a mysterious stranger to find the Necronomicon.  Where does one start when searching for the infamous grimoire? The public library of course!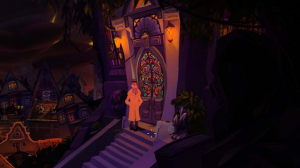 While there, he is befriended by the  Librarian Buz Kerwin. Don is Kidnapped by a cultist right in front of Buzz who decides to rescue Don whom he's known for five minutes. He stumbles across the  Necronomicon and takes it home to figure things out. Even though Buzz is a librarian with access to thousands of other less dangerous books, he decides to read the Necronomicon to see if it can offer insight as to where Don was taken. He accidently endows his cat, Kitteh, with the ability to speak.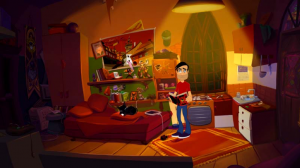 Kitteh is my favorite character in the game. The character's voice acting, and dialog are superb and made me laugh! After  getting information on Don, the game shifts to the next chapter where the player must guide Don as he attempts to, escape  from the captors, find Buzz, and stop them.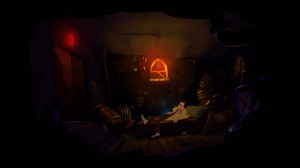 I enjoyed this game immensely. The ending did what endings are supposed to do, surprise you. This game will make a Lovecraft fan out of you. Hear me, you who worship The Great Old Ones, and heed me well: Play this game!
Cthulhu fhtagn!
Grade A
+ It's funny!

+ Clear objectives

+ Lovely backgrounds

+ Neat puzzles

+ Talking cat who I wanted to hear

– Very hard to know where to click on hot-spots. This is the biggest detractor from the game experience
Trailer:

System Requirements:
MINIMUM Windows
OS: Microsoft Windows XP(SP2+)/Vista/7/8/8.1 (64-bit)
Processor: 2,5 GHz Intel Core i3 or AMD Athlon
Memory: 4 GB RAM
Graphics: Dedicated video graphics card with 2GB of memory
DirectX: Version 9.0c
Storage: 20 GB available space
Additional Notes: Requires a 64-bit processor and operating system
MINIMUM Mac
OS: Mac OS X 10.8+
Processor: 2,5 GHz Intel Core i3 or AMD Athlon
Memory: 4 GB RAM
Graphics: Dedicated video graphics card with 2GB of memory
Storage: 20 GB available space
Additional Notes: Requires a 64-bit processor and operating system