Smile for Me Review
Keep smiling and bring good cheer to the residents of the Habitat in LimboLane's delightful adventure
Category: Reviews
Written by:  Cindy Kyser, on July 14, 2019
Genre: 3D Point and Click Adventure
Developed by:  Gabe Lane, Yugo Limbo
Published by:  LimboLane
Release Date:  May 31, 2019
Platform:  Windows, Mac
Smile for Me began as an experiment in mid-2018 when two members of LimboLane met and shared ideas. With artwork by Yugo Limbo, and Gabe's love for multimedia, the two set out to create a non-traditional game built with collage art and live-action puppetry. The result is a unique adventure with very different mechanics. It is surreal and just plain fun to play.  LimboLane claims to be Inspired by the likes of Bernband by Tom van de Boogaart.
You visit the Habitat – a retreat run by the elusive Dr. Habit and populated with sad people. You are a flower delivery guy and you soon find yourself tasked with cheering up 22 residents. The residents are a very odd assortment of strange and wonderful characters. Each has a story to tell and provides hints about what it will take to make them smile. No two are alike and just finding and meeting them all is an adventure in itself!
The game is divided into 24-hour days but is complicated by a nightly curfew. If you are not back in your room on time, you lose half of the next day. So, time is of the essence. You are also subjected to morning and evening video messages from Dr. Habit which involve some rather creepy words of "wisdom" delivered by a puppet.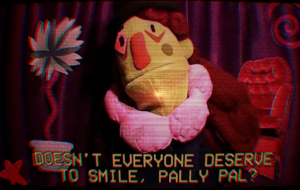 There is no voice acting and character speech is heard as electronic nonsense. The characters are 2D and are superimposed on a 3D environment. The art style, the crazy dialog, and the original music by Lucas Saur combine to make this a game that will make you smile. Instead of dialog trees, you respond to questions from residents by shaking your head and down ("Yes") and back and forth ("No") when prompted.
Items are either found in the Habitat or received from residents and carried as inventory. You will end up with an extensive assortment of objects which are then used to accommodate resident requests. While some residents can be cheered by giving them a single item, most tasks are a bit more complicated and require multiple steps. There are dependencies between quests, with some residents requiring objects that can only be obtained by cheering another resident. The most useful inventory item is a clock that lets you monitor the time of day to help you comply with curfew requirements. It also allows you to advance time if you are waiting for something to occur.
While most puzzles are of the "find and use" variety, others require some coordination. At one point, you are firing golf balls at targets and there is an optional mini-game that is a variation of "whack-a-mole."
The game is built with the Unity Engine but the mechanics are non-standard and I struggled a bit with the interface. My biggest challenge was to position my character so that I could read dialog or activate a hot spot in the environment.  The characters and dialog boxes are projected in 2D against the environment. If you are not positioned correctly, you can see the character but will not be able to read the text. It also took me awhile to get used to the exact mouse action required to indicate a Yes/No response that the game would recognize.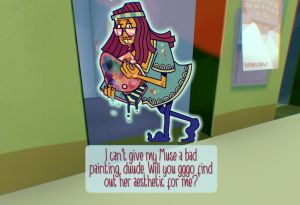 In addition to an auto-save, there are multiple save slots that can be used to hold your place at the beginning of a day and then restored if you need to replay using your time more efficiently. This came in quite handy! Dr. Habitat continues to reference "The Big Event" that is coming soon. Thus, I was unsure if my days at the Habitat were limited. On my first play through, I had cheered only a handful of people in 12 days. So, I started over and began managing my time carefully. This allowed me to cheer almost all residents within that same number of days.
Once all residents are smiling, the end game sequence initiates and you are in for a very creepy surprise when you come face-to-face with Dr. Habit. He is an unhinged and bizarre character, but the story ends in a satisfying way with alternative endings based on your decisions.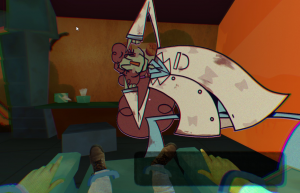 If you are looking an intriguing change from standard adventures and don't mind running in circles to complete a host of bizarre errands, then Smile for Me is a game you should not miss. The art and original music alone make it worth playing and both can be purchased as downloadable content.
Grade A –
+ Unique game mechanics, coupled with delightful art and music, make this a surreal and very original adventure

+ Story and characters are quite different and are a refreshing alternative to reality

+ Quests require creative thinking but are fair and you should not need a walkthrough

– Game mechanics are a bit tricky and positioning your character to read or interact was a challenge throughout the game.
Trailer:

SYSTEM REQUIREMENTS:
MINIMUM Windows
OS: Windows 7 SP1+
Processor: SSE2 instruction set support
Memory: 4 GB RAM
Graphics: Graphics card with DX10 (shader model 4.0) capabilities
DirectX: Version 10
Storage: 2 GB available space
MINIMUM Mac:
OS: macOS 10.11+
Processor: SSE2 instruction set support
Memory: 4 GB RAM
Graphics: Graphics card with DX10 (shader model 4.0) capabilities
Storage: 2 GB available space