Awaiting Salvation Review
Go for the Cure and save a village in the new adventure from Berarts, Ltd.
Category: Reviews
Written by:  Cindy Kyser on June 24, 2019
Genre: Exploratory Puzzler
Developed by:  Berarts, Ltd.
Published by:  Berarts, Ltd.
Release Date:  June 24, 2019
Platform:  Windows
Berarts, Ltd. Is a 3-man indie team based in Turkey. Burak Yilmaz, Murat Yilmaz, and Ahmet Berber recently released Platonic Paranoia which I played and reviewed. Being a fan of challenging puzzlers, I was not put off the by difficulty level of this game and I enjoyed it.
In an acknowledgement that some gamers gravitate towards lighter fare, Berarts has just released Awaiting Salvation. It is a shorter, easier experience that proves that these developers can play on both sides of the proverbial street.
This new adventure takes place in a village that has been devastated by a plague-like disease. Six survivors have gone into hiding to protect themselves from contagion. You have been tasked by the King to deliver doses of a cure and save them. Played from a 1st person perspective, you begin the game with partially formulated cures which must be completed prior to delivery. There are no voice-overs and the story is told through scrolls that you find and read along the way.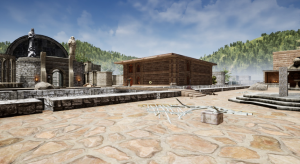 The 3D village is somewhat medieval in appearance, with stonework and statues. There are locked gates and two areas that require a mask for entry. To activate the cures, you must locate six complementary vials. You also need to find 3 stone tablets and 3 coins to complete the game. Most items you need are behind closed doors or in locked chests that you must puzzle through.
There are a handful of puzzles that are mostly mechanical in nature. Although a couple of the puzzles can be solved through brute force, there is no need. Clues exist for each if you are paying attention. Awaiting Salvation is a fairly short adventure that I finished in under 2 hours.
Navigation is performed with the WASD keys and the mouse. The inventory screen is accessed with the 'I' key and the 'E' key is used to interact with objects. The game is automatically saved on exit.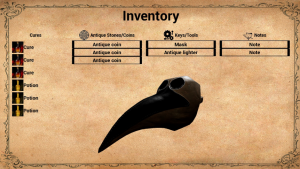 On several levels, Awaiting Salvation is reminiscent of an "Escape-the-Room" game. I favor that genre on my Android tablet and most take place in a small environment and can be completed in a relatively short period of time. The challenge is to puzzle your way OUT of a locked area. This game is short, with an environment that consists of only a few buildings. The goal is to puzzle your way IN to the locked area where the survivors have taken shelter.
Grade B
+ Short and easy adventure provides a relaxing game break

+ Should appeal to those who do not normally play adventure games with puzzles

– May be to easy for the experienced gamer
Trailer:

System Requirements:
MINIMUM WIndows
Requires a 64-bit processor and operating system
OS: Windows 7 64-bit | Windows 8 64-bit | Windows 10 64-bit
Processor: Intel Core i3-6100T | AMD FX-6100
Memory: 1 GB RAM
Graphics: NVIDIA GeForce GTX 650 | AMD Radeon R7-250X
DirectX: Version 11
Storage: 1500 MB available space