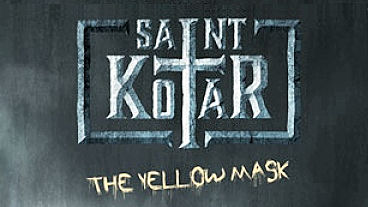 Launch of Saint Kotar's Kickstarter Campaign Has Been Delayed
Release of a playable demo, now subtitled The Yellow Mask, has also been rescheduled
More info:
Launch Date Revealed for Saint Kotar Kickstarter and Playable Demo – November 13, 2017 
The folks at Tanais Games, the Croatian studio behind Saint Kotar, feel badly about not being able to meet their previously announced  April 10th launch date for the game's Kickstarter campaign and playable demo (which is officially known as Saint Kotar: The Yellow Mask). In fact, their latest newsletter starts out: "We failed you and it hurts us." This actually brought a tear to my eye. Really.
Anyway, here's the deal. The studio considers Kickstarter to be the best crowdfunding platform for its needs. Unfortunately, however, Kickstarter doesn't support Croatia. Although the studio has found a successful way through this, the implementation is taking longer than expected. The wheels of administrative matters often grind slowly.
Tanais Games is now aiming for May — or, at the latest, mid-June — for the launch of the Kickstarter campaign. The playable demo will be launched at that time as well. A firm date will be released as soon as there is one, so stay tuned.
As a gamer, this sort of setback doesn't really bother me (and it's not that much of  a setback anyway). JA has been covering Saint Kotar, which is a point-and-click psychological horror game (one of my favorite genres), since July 2016. I've always gotten the impression that the development team genuinely cares about making the best game possible, and about the people who will be playing it. This kind of thing means a lot to me.
So I, for one, am willing to wait as long as it takes for Tanais Games to fund, complete and release Saint Kotar.
The studio's  blog has some interesting and insightful things to say about the way matters have unfolded, and about the nature of failure and learning from one's mistakes. More info about the game itself is available here.