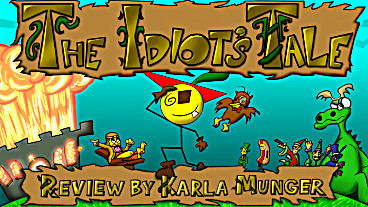 The Idiot's Tale Review
If you're a fan of classic LucasArts and Sierra adventure games — or if you're just in need of some laughs — you're bound to enjoy The Idiot's Tale
Category: Review
Written by 396 on April 13, 2018
Developed by Megalithic Mainframe
Published by Megalithic Mainframe
Platform: Windows, iOS, Android
Genre: 2D Point-and-Click Adventure
Release date: March 10, 2018
Platform(s): Windows (released), iOS and Android (not yet released)
As I played The Idiot's Tale, the following snippet of dialog from MacBeth kept popping into my head: "…it is a tale told by an idiot, full of sound and fury, signifying nothing."
Fortunately for everyone, The Idiot's Tale signifies a lot of things — and a majority of them are good. At the top of my list: the game has a terrific (and twisted) sense of humor. I was laughing practically the whole way through.
The Idiot's Tale is the brainchild of Megalithic Mainframe, a studio comprised of just two people: brothers Elliott and Anton Ridgway. They, along with Max Ridgway, also wrote the game's music. There's a lot of talent here.
Is That an Owl, or Are You Just Sprouting Feathers?
The game's narrative is offbeat and clever. You play a silly-looking, self-described "valiant knight-errant" named Sir Jimothy Quest. You live in the Kingdom of Dodotry. One fine day, you're summoned to a meeting with King Farkinian Delano Albertson. He informs you that his reign is coming to an end and he needs a successor. For some reason, he's chosen you.
However, he's not just going to hand you the title. The Three Treasures of Dodotry have been lost and, in order to become King, you must find them.
Moreover, an owl named Hoover must accompany you as an advisor. As it turns out, Hoover's not much help at all. Sir Jimothy doesn't want him around, but he won't go away.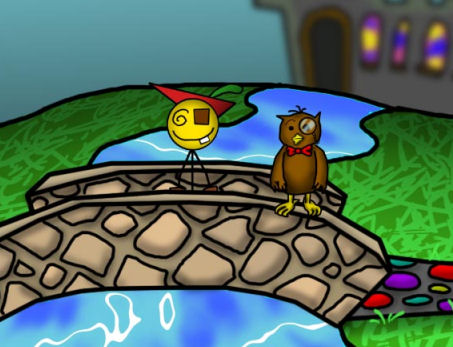 The balance of the game revolves around finding the treasures. In the process, Sir Jimothy and Hoover visit all kinds of quirky locations meet up with all sorts of outlandish characters.
The Idiot's Tale is a 2D point-and-click adventure. It has a simple UI. Things you pick up are stored in an inventory represented by a handy little pouch at the upper left-hand side of the screen. A menu is located at upper right, consisting of Save, Load, Hint, Help and Exit.
You interact with objects and NPCs by right-clicking on them, which summons a graphic with representations of an eye (look at, describe), hand (take, touch) and mouth (talk, taste).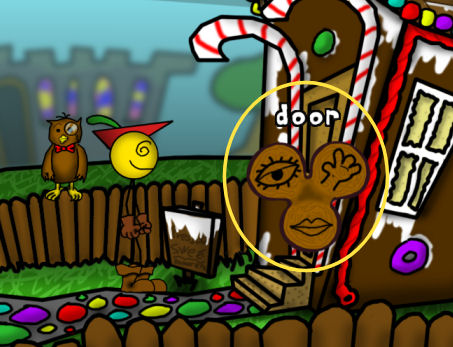 The game also has a map consisting of a 25-square grid to which locations are added as you visit them. There is no spoken dialog.
All saves are initiated by the player (hooray!). Save slots appear to be unlimited. And if you get stuck, the game includes a detailed hint system.
You can die, but it's no big deal. You're returned to where you left off, so no backtracking is necessary. You can die as many times as you want. Watching Sir Jimothy bite the dust can be pretty funny.
One caveat: when you exit the game, you're not asked if you want to save first. It's up to you to remember to do so.
The Idiot's Tale has a wide assortment of puzzles that vary in difficulty. I experienced some snags with a few of them.
I encountered two puzzles that appear to require successful completion upon the first try. Initially, I messed up both of them, and I was unable to discard my mistakes. I could think of no alternative but to load a save made prior to engaging each puzzle, which enabled me to try again. The good news is that I prevailed on both of them the second time around.
Further, I was permitted to do something that I actually needed to do later in the game in order to move on. I couldn't undo what I'd already done, so I was again obliged to load a save.
These things aren't exacty earth-shattering, but I did find them somewhat off-putting. However, The Idiot's Tale is so funny that I couldn't stay annoyed for long.
The game has one arcade sequence that takes place, appropriately enough, in an amusement park. There's also a sequence at the end wherein you must complete certain actions before a character who is pursuing you causes you to lose your head…literally. This took me awhile. I'm exceptionally uncoordinated.
Music to My Ears, a Feast for My Eyes
The game's soundtrack, by Max, Elliott and Anton Ridgway, is wonderful. It's so catchy that some of it actually got stuck in my head and I didn't even mind. You can listen to music from the game on Bandcamp, where it's also available for purchase.
The Idiot's Tale is visually pleasing. The cartoonish artwork is perfect for the sort of game it is, and it's presented in crisp, bright colors. The animation — particularly when a character is speaking — is a hoot.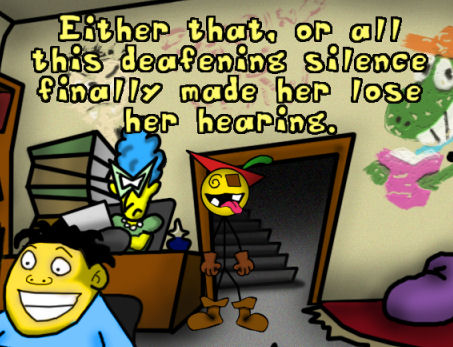 I became somewhat attached to Sir Jimothy, who is a doofus in an endearing sort of way. His dialog is hilarious. The game as a whole is warped and silly (which I mean in the best possible way). There's much creativity and originality to be found here as well.
If you're a fan of classic LucasArts and Sierra adventure games — or if you're just in need of some laughs — you're bound to enjoy The Idiot's Tale. I found it to be a light-hearted respite from the cares of the day.
The game is currently available for Windows on Steam. According to Megalithic Mainframe, it's coming soon to the Google Play Store.
Grade: B+
+ A silly, twisted game that will keep you laughing


+

Offbeat and clever narrative

+ Saves are player-initiated


+

Wonderful soundtrack,

visually pleasing

–

A few puzzles can be problematic

–

No "save" prompt prior to exit
Trailer:
Note – Even though there's live action in this "commercial," there is no live action in The Idiot's Tale.
System Requirements
MINIMUM Windows:
OS: Windows XP or higher
Processor: Dual Core 2 GHz or higher
Graphics: AMD or Nvidia video card
Storage: 400 MB available space
Sound Card: DirectX-compatible sound card