There The Light Review
Turn on the Lights in CasualBeBop's Exploratory Puzzler
Category: Reviews
Written by: Cindy Kyser on June 18, 2019
Developed by: CasualBeBop
Published by: CasualBeBop
Release Date: May 31, 2019
Genre: Exploratory Puzzler
Platform: Windows, Mac
There The Light is a short, relaxing puzzler from CasualBeBop. It is the first Steam release for this U.K.-based indie development team. The game was designed and developed by Alexander Heath, with Eddie Eisinger as sound designer. The music was created by Hash Brown.
You begin in an abandoned temple-like structure and follow a path through various buildings and rooms. In each, there are puzzles and switches which activate lights and display detailed pictures of (we assume) the people who built the place. It has the feel of entering an Egyptian archaeological site, but the symbols and mural styles are alien and unique.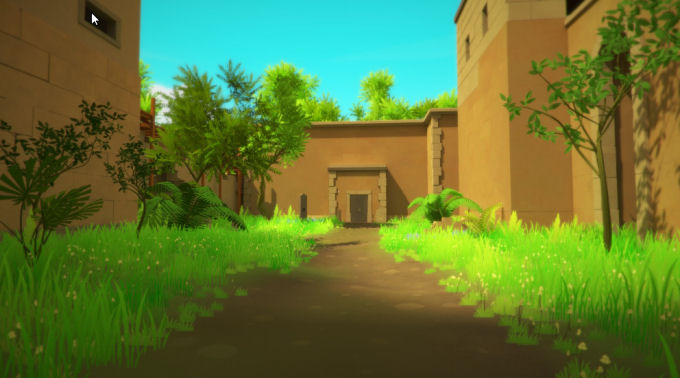 The puzzles come in three forms: copying constellations, aligning symbols on dials, and recreating patterns. Although there are a lot of puzzles to work through, all but one fit into these categories. There is no narration or text in this game. You simply follow the path that opens as puzzles are solved, lights turn on, and closed doors open.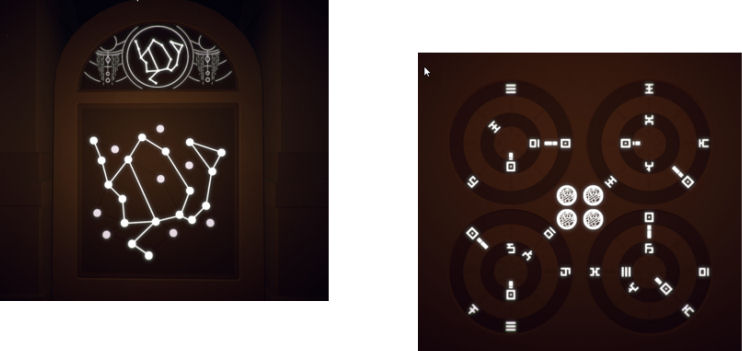 According to CasualBeBob, There The Light takes place in a world that faced a cataclysmic event. The narrative is based on "issues that effect our own planet, namely climate change and our dependence on fossil fuels." There is a parallel narrative that "discusses key changes in our understanding of Astronomy, Astrophysics, and our place in the Universe." (https://casualbebop.com/). I admit that I must be a bit shallow. I enjoyed the aesthetics of the game but did not tap into this level of meaning within the artwork. I absorbed the overall feel of the game rather than trying to create a narrative from the many murals. Perhaps on my next trip through…
There are areas of the structure that are very dark. When I lost my bearings, solving puzzles turned on the lights and I was able to reorient myself. Thus, I focused on finding the light sources and activating them. As I played, I was reminded of the Faraway: Escape series by Pine Studios that I have enjoyed on my Android tablet.
The game has an automatic save on exit. There The Light is divided into four chapters and a save at the beginning of each would have been nice because it would then be possible to revisit specific areas of the game without starting over.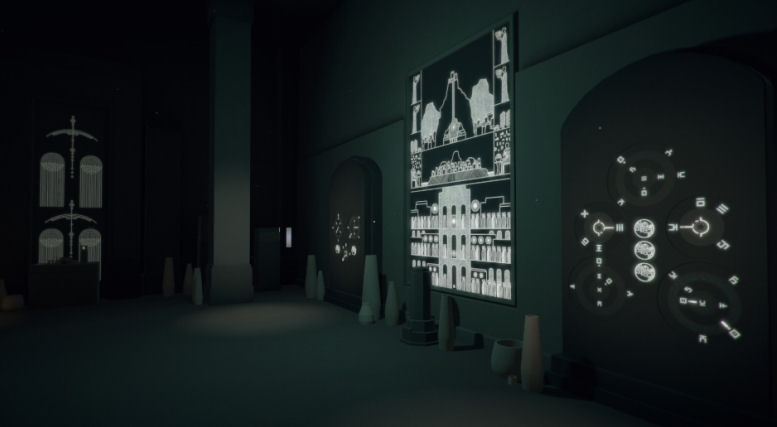 I would recommend There The Light to thoughtful adventurers who are looking for a relaxing place to spend time. The graphics and the music create a lovely environment and the puzzles are not very difficult. I completed the game in about 2 hours and played through in a single sitting. For those who wish to engage in deeper thinking, the option to slow down and absorb the narrative told through the artwork is an additional challenge.
Grade B
+ Unique artwork, coupled with original music, creates a relaxing respite from reality
+ With one exception, puzzles are not difficult. This allows the player to focus on exploration– (Very) repetitive puzzles
– "Backstory" open to interpretation, depending on player's viewpoint
Trailer:

System Requirements

MINIMUM Windows:
Requires a 64-bit processor and operating system
OS: Windows 7
Processor: Quad Core – 2.2GHZ
Memory: 8 GB RAM
Graphics: Nvidia GeForce GTX 650 // ATI Radeon HD 5770 1GB
DirectX: Version 11
Storage: 5 GB available space
Sound Card: Onboard
MINIMUM Mac:
Requires a 64-bit processor and operating system
OS: 10.10
Processor: Quad Core – 2.2GHZ
Memory: 16 GB RAM
Graphics: ATI Radeon HD 5770 1GB
Storage: 5 GB available space
Sound Card: Onboard