The Darkside Detective Review
Off-beat humor and loving homage to classic sci-fi and horror give The Darkside Detective a certain charm, but it's let down by weak puzzle design
Category: Reviews
Written by: Graham Thomas on May 25, 2019
Developed by: Spooky Doorway
Published by: Spooky Doorway
Release Date: July 27, 2017
Genre: Point-and-Click Adventure
Platform: Windows, Mac OS/X, Linux
The Darkside Detective is the debut offering by studio Spooky Doorway, a three-person development team out of Ireland. It was released back in June 2017, but it's sat on my wish-list for two years now, and I've been meaning to pull the trigger on it and give it a look. So, I did. Here's what I think.
This game originally piqued my interest back when it was released two years ago, mostly for its theme. I'm a sucker for a classic noir detective motif, and in particular I'm a sucker for the classic noir supernatural detective motif. Darkside plays on that trope like an overexuberant wobbleboard enthusiast. In fact, the bulk of the game is essentially throwback after throwback to pop culture references: old horror authors, cult tv shows and the classic adventure games of yester-yore. All of this is delivered with tongue placed very firmly in cheek and with a more than knowing nod. I say this up front, because whether or not you enjoy this game is likely to come down to whether or not you enjoy those references and the goofball humor that it's going for.
You play as Detective Francis McQueen, a Fox Mulder/Dale Cooper type, heading up the Twin Lakes Police Department's Darkside Division. The Darkside Division is responsible for investigating some of the more supernaturally-inclined crimes and misdemeanors occurring about town of late. You and your sidekick Officer Dooley are charged with unravelling these spooky mysteries, a job that will bring you up against haunted libraries, ghost-trains, zombies, and put you in contact with the Darkside, a mysterious mirror world of Twin Lakes.
Barring a minimal overarching plot about a bunch of strange portals to the Darkside that have been opening up around the town, The Darkside Detective is essentially a series of vignettes. The game is separated into six individual cases (with three short bonus cases unlocked on completion), each taking place at a different location and involving a mystery to be solved. These take anywhere from roughly half an hour to an hour each to complete, clocking the game in at around 4 or 5 hours of playtime all up. That's not insubstantial for a little indie title like this, but because each case is essentially treated as a standalone, it does end up feeling somewhat shorter than its total playtime. The narratives of each of the cases are quite simple and straightforward, too – The Twilight Zone this is not – and while you'll find yourself meeting and talking with an array of characters throughout the game, most of the dialogue is brief. It serves more as a vehicle for bad puns and cheesy humor than to advance a plot.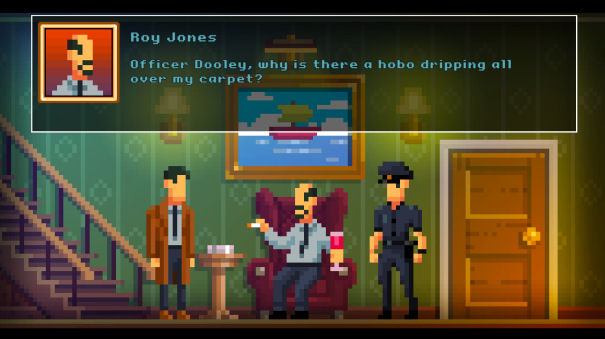 Gameplay-wise, The Darkside Detective is essentially a scaled-back point-and-click adventure. The art style is a nod to the lovingly crafted pixel art of early adventure games and it manages to evoke a sense of nostalgia while actually being pretty darned nice looking in its own right. But while there's the familiar pickup/use item-style puzzle mechanics (along with a few relatively simple tile-based and rotate-the-pipe type challenges), there is no walking about in the environments, no animated opening of drawers, and very few sequenced events. Animations in general are kept to a minimum. Instead, areas are presented in flat 2D, as static scenes. Clicking on an item or causing an event to occur either triggers a dialogue box telling you what's happened or fades in and out of black to present the newly altered scene. This probably owes more to the nature of the game's origins than it does any intentional design choice. The game originally began as a demo that two of its developers made in eight hours at a game jam. After it received some interest online, they then decided to expand it out in to a full game. I was a little bit disappointed with this scaled-back approach at first, but in hindsight I think it probably works for this game. Streamlining actions allows you to move through the story at a nice pace. And you'll want to, because the narrative and gameplay are somewhat lacking in substance.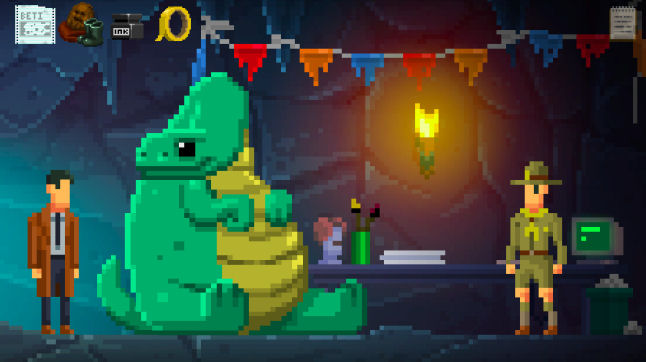 Each case has its own location, areas within that location, characters to talk with, items to interact with, and puzzles to solve. Once you've completed a case, however, you can't return to its location. Your items are scrubbed from the inventory and you unlock the next case, where you begin from scratch again. This makes things nice and easy for the developers, in terms of puzzle design. Unfortunately, it also makes things too easy for players. The puzzles in The Darkside Detective are rather unsatisfying. There's not really a lot of lateral thinking required when you only have a couple of items to be used and a couple of areas to use them in. And it doesn't help that their intended usage is sometimes signposted a little too loudly by the game itself. Even in the final case, which involves traversing between several different locations, each of the items required to solve the puzzles at each location can be found at that location. There's no need to think about how an item might work in another area. The problem it solves is usually right there in front of you. It all just feels a bit lazy.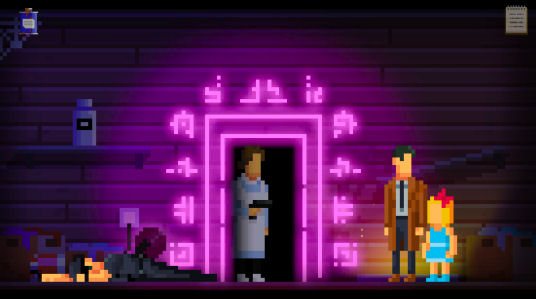 The game's appeal, however, will rest largely in its style. It's peppered with pop-culture references. From Twin Peaks and The X-Files, to the stories of HP Lovecraft, to old Lucasart and Sierra adventure games. If these are the sorts of things you're likely to recognize, then you may find yourself being taken in by the game's charm, despite the weak puzzles. The Darkside Detective is a game that wears its influences on its sleeve. It wants you to know where it came from. Whether or not you find that approach heavy-handed is likely going to color your enjoyment of it.
I must admit, in the beginning the humor felt rather forced to me and the game felt far too easy. But either the humor improved as the game went on, or it grew on me, because I found myself eventually being won over by the game's goofy one-liners and silliness. Once I had lowered my expectations regarding the story and gameplay, I was free to just enjoy the silliness of it all, and the lack of animations and ultra-fast navigation and item manipulation meant I never really got bored.
It would be a stretch to say if you enjoyed games like Thimbleweed Park, The Last Door, and Oxenfree, that you will definitely enjoy The Darkside Detective. As a game, it's just not working on the same scale as these full-fledged adventure titles. Its weak puzzle design stops me from recommending it as a genuine adventure experience. But if you enjoy the themes of those games, and the off-beat humor of the classic Sierra and Lucasart adventures, and as long you don't mind your puzzles very much on the adventure-lite side of things, then it may just be worth a few bucks and an afternoon or two.
Grade B
+ Lovely pixel art
+ A charming throwback to classic horror and science fiction pop-culture
+ Doesn't overstay its welcome

– Relies a lot on pop-culture references – if you're not familiar with them the game may not have the same appeal
Trailer:

System Requirements

MINIMUM Windows:
OS: Windows 10
Processor: Pentium 4
Memory: 2 GB RAM
Graphics: Intel HD Chipset 3000
DirectX: Version 9.0c
Storage: 1 GB available space
MINIMUM Mac OS/X:
OS: Mac OS X 10.7+
Processor: Intel® Core™ Duo 1.83GHz
Memory: 2 GB RAM
Graphics: Intel HD Chipset 3000
Storage: 1 GB available space
MINIMUM SteamOS + Linux:
OS: Ubuntu 12.04 LTS
Processor: Pentium 4
Memory: 2 GB RAM
Graphics: Intel HD Chipset 3000
Storage: 1 GB available space