Trüberbrook – Review
Gain an unlikely friend and face a cunning enemy during this gripping mystery!
Category: Reviews
Written by: Erik Parkin on June 24, 2019
Developed by: btf
Published by: Headup, WhisperGames 
Release Date: March 12, 2019
Genre: Point-and-Click Mystery Adventure.
Platform: Windows, Mac OS/X, SteamOS + Linux.
The essence of any mystery can be distilled into five essential questions; what, how, who, when, and most importantly, why? These were the questions that whirled like a maelstrom through Hans Tannhauser's mind as he set foot in Trüberbrook Germany.  Who broke into his hotel room? Why had they taken his notes? How would he get them back? When will the other shoe drop? What will come from these events? The answer to these questions will greatly change Hans, the protagonist, as every good mystery does.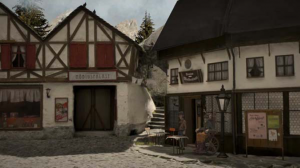 Trüberbrook showcases animation that reminds me of the old stop motion specials that played in the seventies and eighties. It made me smile. Although I had to turn the graphics quality to low to speed up the game.
While tracking down his notes, Hans meets a character named Gretchen who takes him on a journey in the mountains surrounding Trüberbrook which will change his life forever.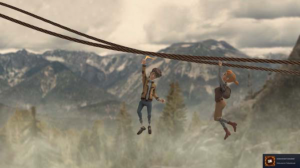 During this journey Hans finds himself in many unfamiliar places doing many unfamiliar things. My favorite  was driving this rocket car.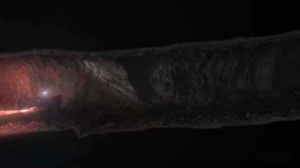 The journey takes Hans and Gretchen to the front of this door.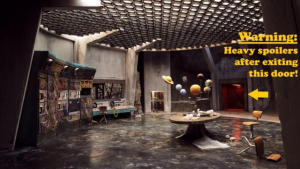 I'm not going to spoil what's inside it, that would ruin the story. I will say that it is a threshold moment for Hans and Gretchen. When I entered this door, I thought the story was ending. It was only the beginning.  It's a detective's job to bring light to shadows. This mystery will give you many opportunities to do that.
I found Trüberbrook to be a fun game.  It does have a few rough edges. It took several clicks to get Hans to perform actions and sometimes the characters would run in circles. The loading screen was an annoyance. Aside from those minor flaws, it was great fun to play. Give it a try!
Grade B
+ Good mystery with great twists!

+ Good voice acting

+ Clear objectives and neat puzzles

+ Lovely backgrounds

– Some repetitive animation

– Annoying load screen

– Very hard to know where to click on hot-spots, even with indicator
Trailer:

System Requirements:
MINIMUM Windows
CPU: i3 4th generation / i5 2nd generation / A6 series
CPU SPEED: Info
RAM: 4 GB
OS: Windows 7 / 8 / 8.1 / 10
VIDEO CARD: Intel HD 4000 / AMD Radeon 5800 series / nvidia 550Ti
PIXEL SHADER: 5.0
VERTEX SHADER: 5.0
SOUND CARD: DX11 compatible
FREE DISK SPACE: 7 GB
MINIMUM Mac
Memory:4 GB
Graphics Card:AMD Radeon HD 6970
CPU:Intel Core i5-650
File Size:7 GB
OS:MAC OS X 10.11 or higher