Irony Curtain: From Matryoshka with Love Review
What if James Bond were crossed with Larry Laffer? Irony Curtain gives a possible answer
Category: Reviews
Written by: Erik Parkin on June  10, 2019
Developed by: Artifex Mundi
Published by: Artifex Mundi
Release Date: May 16, 2019
Genre: Point-and-Click Comedy Adventure
Platform: Windows, Mac OS/X, SteamOS + Linux
When marketing any kind of art, be it paintings, music, books or adventure games, choosing the right title is of paramount importance. It should reach out and grab the customer because the title is usually the first thing they see. It plays a central role in the decision to purchase the work. It should encapsulate the central theme of the work within a few memorable words. Irony Curtain is the perfect title for Artifex Mundi's new adventure game. Its story is replete with irony. You'll want to laugh out loud. When you finish it, you may find that it made you think too.
Fred Rogers once said, "…I feel so strongly that deep and simple is far more essential than shallow and complex."1 Mr. Rogers' observation describes the dualistic nature of this game perfectly. It has simple and complex elements joined together in a perfect alchemy that screams irony.
The player inhabits the character of Evan Kravolski. Evan is a single American in his thirties who lives with his parents. He works for The Daily Worker newspaper, and he has one aspiration in life. Evan Kravolski wants to become a communist!
In the first instance of this game's titular irony, Evan doesn't seem to care about the differences between Communism and Democracy. He has a naïvely perfect view of Communism that has been nurtured all his life. When he finds himself at a news conference where he delivers a speech extolling his opinion, the results are not what he expected.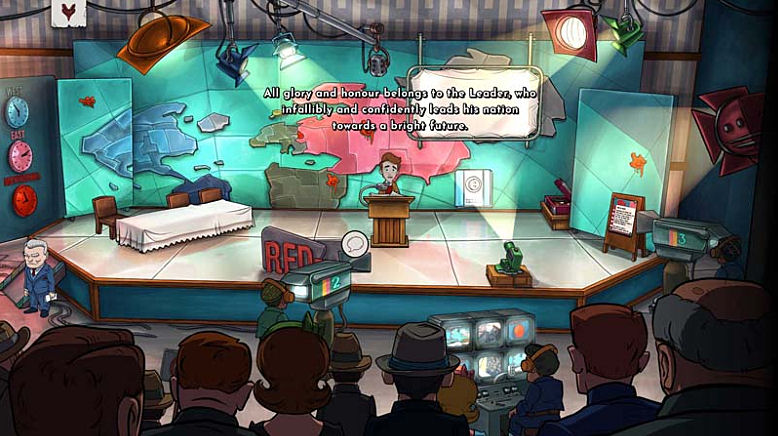 After dodging tomatoes, Evan meets Anna Angelove, who, in true Campbellian style, calls Evan to an adventure like Alexander Dumas' The Man in the Iron Mask.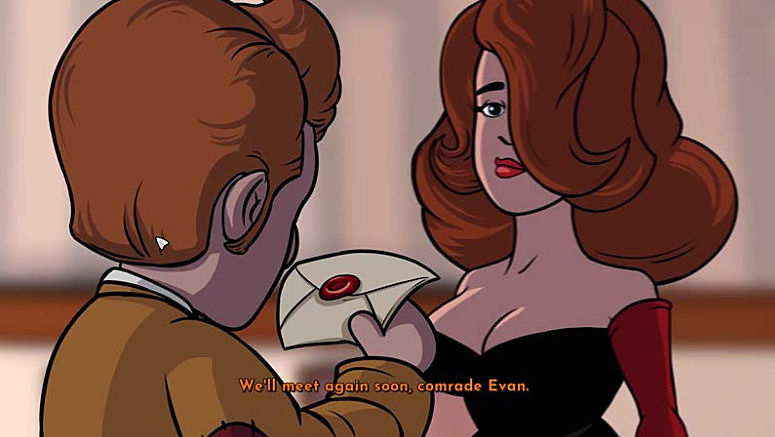 Evan goes to Matryoshka by smuggling himself in Anna's Luggage. Matryoshka is a place he's been dreaming about since his childhood. Evan becomes enmeshed in a hero's journey. Like every hero before him, Evan finds that his journey challenges him on every level; physically, intellectually, emotionally, and spiritually. By the climax of his adventure, Evan is enlightened. He has learned about the evils of Communism and the virtues of the United States. Through it all, he somehow manages to remain so stupid he couldn't find a drop of water in the ocean.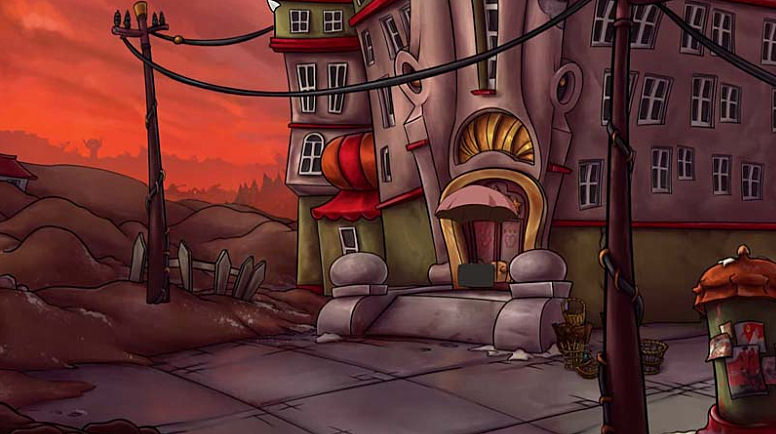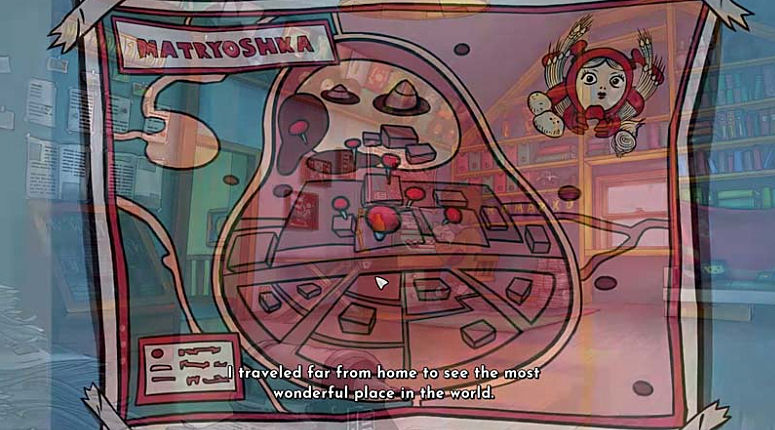 The humor derived from Evan's naiveté is what drew me to this game. He reminds me of a cross between James Bond and Leisure Suit Larry. Ian Fleming once said of his creation, "I don't regard James Bond precisely as a hero, but at least he does get on and do his duty, in an extremely corny way."2 That describes Evan perfectly, and like his gaming progenitor Larry Laffer, star of the Leisure Suit Larry series of adventure games by Sierra On-Line, Evan has a penchant for making questionable fashion choices and needing the player's help to get out of trouble. I enjoyed this game's deep story and character development.
Grade B+
+ It's funny
+ Amusing voice acting and dialog
+ Clear objectives
+ Third-person perspective
+ Nicely drawn graphics
+Good story that makes you think– I didn't like the arcade sequences. The shooting range, bricklaying contest and stamp sequences detracted from my experience. They frustrated me because of the lack of dexterity in my fingers. That's why I gave this game a B+ instead of an A. That's just my opinion, you may feel differently.
Trailer:

System Requirements

MINIMUM Windows:
OS: Windows 7 or newer
Processor: 2.5 GHz (Single Core) or 2 GHz (Dual Core)
Memory: 2 GB RAM
Graphics: 512 MB Video RAM
DirectX: Version 9.0b
Storage: 3 GB available space
MINIMUM Mac:
OS: MacOS 10.9
Processor: 2.5 GHz (Single Core) or 2 GHz (Dual Core)
Memory: 2 GB RAM
Graphics: 512 MB Video RAM
Storage: 3 GB available space
MINIMUM SteamOS + Linux:
OS: Ubuntu 16.04 (32/64bit)
Processor: 2.5 GHz (Single Core) or 2 GHz (Dual Core)
Memory: 2 GB RAM
Graphics: 512 MB Video RAM
Storage: 3 GB available space
______________________________________________________________________
1 Fred Rogers – https://bustedhalo.com/blogs/mister-rogers-and-quotes-to-live-by
2 Ian Fleming – https://www.allgreatquotes.com/quote-181537