ZED Review
Take a beautiful stroll through an artistic mind and discover its secrets
Category: Reviews
Written by: Cindy Kyser on June 4, 2019
Developed by: Cyan Ventures
Published by: Eagre Games
Release Date: May 1, 2019
Genre: 3D Casual Narrative
Platform: Windows (Optional VR Support)
ZED was developed by Eagre Games and published by Cyan Ventures. The game stems from the creative vision of Chuck Carter who was on the original Myst development team. Eagre games is based in Bangor, Maine, and was founded in 2014 by Mr. Carter. His stated goal is to produce "beautifully immersive, non-violent games for people of all ages."
As Eagre's first commercial game, ZED was partially funded through a successful Kickstarter campaign in mid-2016. The game was cowritten by veteran game developers Joe Fielder and David Chen. Oculus Rift and HTC Vive VR are supported, but not required. I played the game without VR.
ZED opens with a brief review of memory basics (i.e., encoding, storage, and retrieval) as a daughter receives an update from a doctor on her father's deteriorating mental condition. She mentions that her father is an artist and is working on a book for his granddaughter, Charlotte.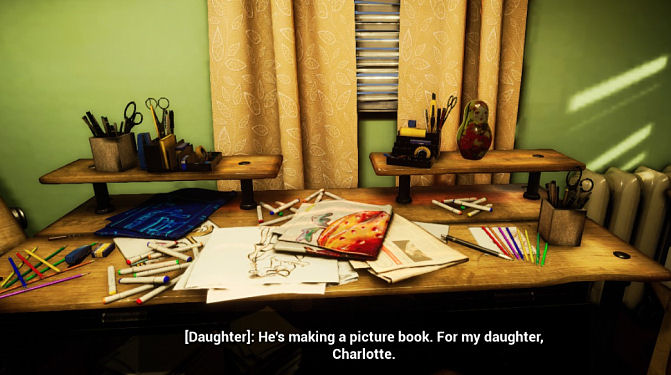 She is advised that her father needs to engage in activities that trigger memories. And so begins a journey through our artist's mind. Mr. Id and Mr. Ego engage in a conversation that describes the quest. The goal is to traverse his memories and find fragments that can be gathered and untangled to create Charlotte's book.
The game begins with Chapter 6 and works backwards to end with Chapter 1. The logic of this numbering scheme is not entirely clear to me. If I think of memories as "stacked," then the oldest would be on the bottom and perhaps this is why ZED begins at the "back of the book." In any event, I had a moment of concern that I had taken a wrong turn when the Chapter 6 title screen appeared just minutes into the game!
Through a series of real and surreal landscapes, the game traverses the aging artist's recollections. Beginning with childhood, we observe his lifelong friendship with Mal and discover the fate of their collaboration on a fictional character named ZED. We see glimpses of the artist's adult life and peek into his relationships with friends and family as he recalls snippets of past conversations. The internal Id/Ego dialog continues throughout the game. His memories are often chaotic and incomplete which one would expect as a mind deteriorates and memory retrieval begins to fail. I would describe the game as an artistic walking simulator with a stream of consciousness narrative.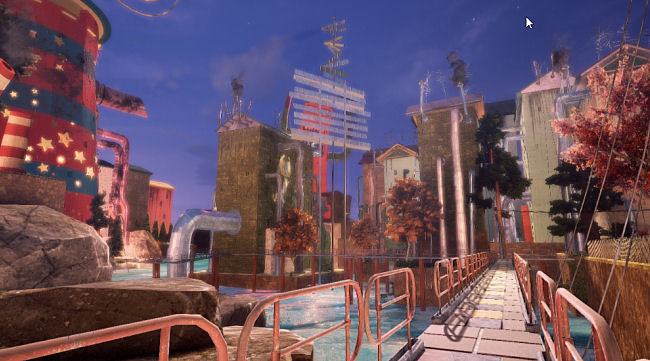 Gameplay is minimal. You stroll through sequential scenes and gather highlighted objects that each trigger an entry in a memory journal. Although the journal entries are tangential to the path through the game, they are cleverly written, and I would encourage players to read them.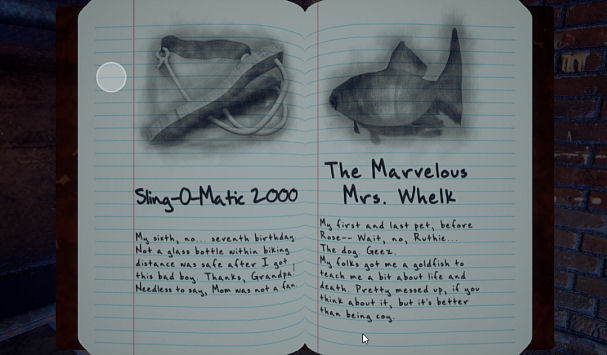 Once all items/memories have been gathered in an area, a 9-piece puzzle is presented on a door. You arrange the 9 jumbled squares to form a picture and the door opens. The actual picture appears somewhere nearby and can be used for reference. If one is listening carefully, there is an audio clue that indicates all memories in the area are accounted for and the door puzzle is available. Although the picture is different in each memory area, the mechanics of the door puzzle remain the same throughout ZED.
Your progress is saved on exit. When returning to the game, you can continue from your last save-point or restart the memory segment you were working on. This means that there is no way to circle back to a prior segment without starting a new game.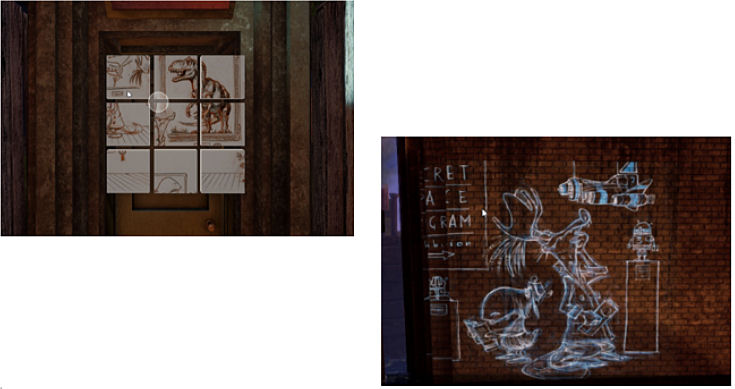 Our journey through the artist's mind has twists and turns with a plethora of doors, filing cabinets, and items in general disarray. Transition areas are captured as surreal bridges crossing fantastic landscapes. An elevator moves you between the layers of memory. There is art everywhere and Eagre has created a beautiful and inspiring game world. The soundtrack and voice acting complement the scenery and I found myself wanting to keep my headphones on for the entire game. The story is a familiar one and will touch all but the most hardened player. Nearing the end of his life, our artist looks back and reflects on his loves, his losses, his regrets, and his purpose. As he says in the end, "Who I am now, is the sum of all the mistakes, all the choices I've made in the past. Everything I have learned. To pass on."
Despite the artistry of ZED, (for me) it falls short on gameplay. Perhaps I was expecting it to be more Myst-like and include a variety of puzzles. This is not really fair, but it is a reasonable assumption when the Cyan brand is associated with a game. Instead, ZED is an experiential exercise that requires wandering but very little thinking. The Steam tags for it include "casual" which is appropriate. This is a game that will be enjoyed by those who do not typically play adventure games. It is short and can be completed in a single sitting. The gameplay is simple and repetitive (click on highlighted objects, solve easy puzzle, move to next area and click on more objects). Along the way, there are a few non-journal items to interact with such as a guitar to strum, toys to squeeze, and light switches to activate. I am most reminded of The Manhole – a Cyan children's game released in the late 1980s that provided a journey through a surreal landscape with items to click on.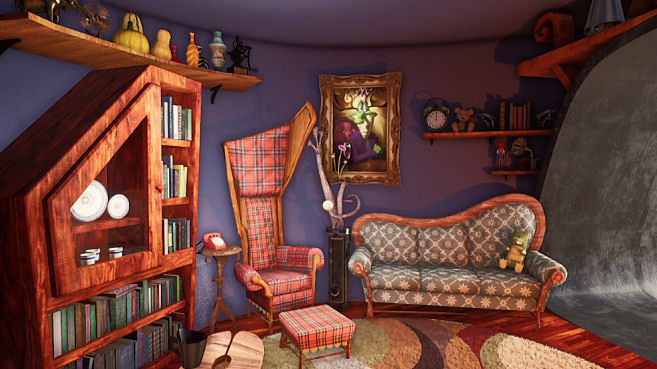 ZED is built with the Unreal Engine which often has a microdot as the default cursor. This provides a reference point for where your mouse is on the screen. In ZED, cursor behavior is erratic. At times, the microdot is present, but centering it on an active object does nothing. Instead, I had to move past it to trigger the interact icon required for retrieval. Other times, the cursor is absent except when the mouse hovers on an interactive object. This means that I had no point of reference other than the approximate center of the screen. In both cases (with and without a constant cursor), I found myself "waving" my mouse back and forth over most objects in a hunt for the sweet spot so that I could click and move on.
For me, it is hard to assign a letter grade to ZED. As an experienced gamer, I appreciate the artistry and creativity embodied in the game, but it was a little too "adventure-light" for my taste. At the current price, most gamers would hope for more than 2 hours of playtime. If I were a casual gamer, I might be more inclined to appreciate the simplicity and jump at the chance to stroll through such a magical landscape without being stymied by puzzles.
Grade B
+ Visually stunning landscape is a chance to walk through someone else's imagination
+ Effective sound track with believable voice acting
+ Poignant story that speaks to the heart of being human

– For experienced gamers, the minimal game elements may not be enough
– Game can be completed in 2 hours or less with little or no reason to replay
Trailer:

System Requirements

MINIMUM Windows:
Requires a 64-bit processor and operating system
OS: Windows 10
Processor: Intel i3-6100 / AMD Ryzen 3 1200, FX4350 or greater
Memory: 8 GB RAM
Graphics: NVIDIA GTX 970 / AMD Radeon R9 290 or greater
DirectX: Version 11
Storage: 18 GB available space