Luna – The Shadow Dust Preview
Sit back and experience the unfolding of a beautiful world as a boy and his pet move through a 2D hand-drawn landscape
Category: Preview – First Look
Written by: Cindy Kyser on May 20, 2019
Developed by: Lantern Studio
Published by: Coconut Island Games, Application Systems Heidelberg
Release Date: Summer 2019
Genre: 2D Experiential Adventure
Platform: Windows, Mac, Linux (iOS/Android TBD)
Lantern Studio is a small creative indie game development studio based in the U.K. Founded in 2015, it is a four-member team: Beidi Guo (Game Design and Art Direction), Fox (Game DesignProject Management), Wang Guan (Programming), and Wang Qian (Audio Direction and Music Composition).
Lantern Studio's first title, Luna – The Shadow Dust, was partially funded by a successful Kickstarter campaign in mid-2016 which raised almost 150% of their original goal. Three years later, a preview was made available to us and the full release is due out this summer.
The game opens with a small boy alone in a surreal landscape. Luna – The Shadow Dust has no dialog and no on-screen text so you are on your own to figure out what to do. As it turns out, there is one hotspot in the opening scene and clicking on it results in the creation of a tall tower behind a door. Your only option is to enter the door which leads to the first level of the tower.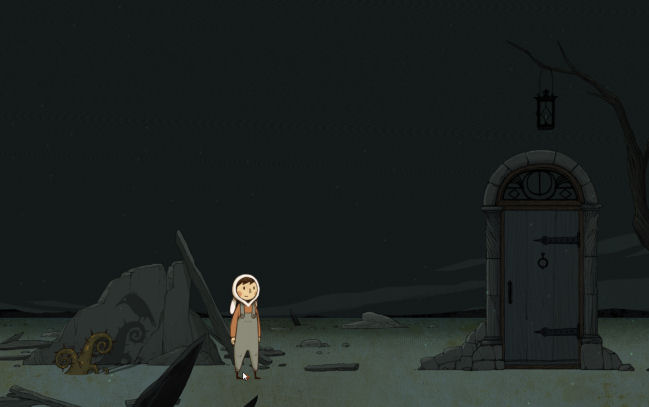 You find yourself in a room with no hotspots and two locked doors. I kept moving back and forth until finally, I understood what was required to move along.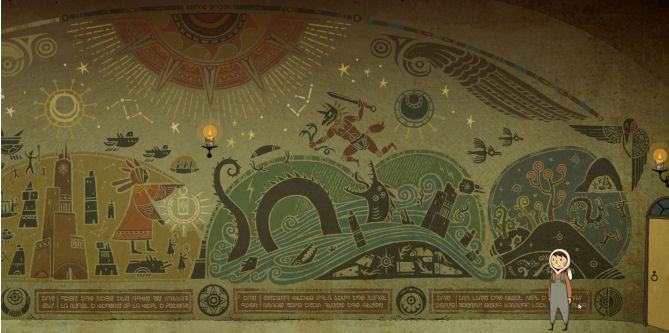 You then proceed to the next level of the tower which includes another puzzler with hot spots. Ultimately, the boy rescues a pet companion and the two begin to travel together. You solve puzzles by working both characters to accomplish tasks that require two sets of skills. An icon in the upper right corner of the screen indicates which character is currently being controlled. At times, the characters are in different, but related scenes, with an action in one having an effect in the other.
The preview includes the first part of the game and takes you through just over a handful of levels. There is an explicit save on exit and restarting the game returns you to the beginning of the level from which you exited. This is not a hardship, as none of the levels (in the preview) involve a lot of actions and catching up is easy. Your best bet is to exit at the start of a new level/room.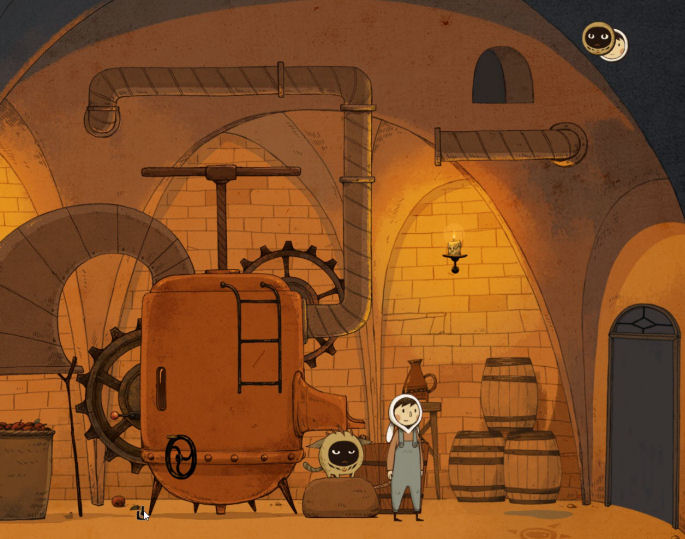 I am not quite sure what to think of Luna – The Shadow Dust. The hand painted, 2D art is beautiful and the original sound track is exceptional. But the gameplay is a bit minimalist for me. Perhaps I am too "Type A" for this sort of game.
Upon entry into each room/level, you find the hotspots and then figure out how to accomplish whatever task is needed to move on. In some scenes, this requires taking an action, and in others, it requires "standing" in the correct place. None was difficult, and I ran through the preview in short order.
In many ways, Luna – The Shadow Dust reminds me of Buried Signals' 2017 title, Gorogoa. Not that the two games are alike. But, both have beautiful art and music and not a lot of gameplay. Instead, the challenge is to try different things and watch the game world unfold before your eyes. Both are more experiential than activity-based.
+ Exceptional original music and a beautifully hand-drawn environment

+ Departure from standard puzzle fare with scenes unfolding as you figure out what to do

+ No text or voices to distract from the game experience

– May be too passive for adventure gamers who enjoy faster paced games that require more activity
Trailer:

System Requirements

MINIMUM Windows:
OS: Windows 7, Windows 8, 8.1, Windows 10
Processor: Intel core i5 2557M
Memory: 4 GB RAM
Graphics: GeForce GT440 or HD5570
Storage: 4 GB available space
MINIMUM Mac:
OS: Mac OS X 10.9+
Processor: 1.2 GHz
Memory: 4 GB RAM
Graphics: 1024MB VRAM
Storage: 4 GB available space