Night Call Preview
Take back the night and find a killer in this upcoming investigative noir title from Monkey Moon and Black Muffin Studios
Category: Preview – First Look
Written by: Cindy Kyser on May 20, 2019
Developed by: Monkey Moon, Black Muffin Studios
Published by: Raw Fury
Release Date: Summer 2019
Genre: Investigative Noir
Platform: Windows, Mac (iOS/Android TBD)
Night Call is a collaborative effort between two entities – Monkey Moon and Black Muffin Studios. Based in Lyon France, Monkey Moon is a team of indie developers who strive to make video games that are different. The two members of Black Muffin hail from Grenoble, France and create trance/progressive music tracks. Publisher Raw Fury was kind enough to offer Just Adventure a chance to preview this upcoming release. I should note that the preview version is not complete, so I played through several scenarios but did not experience the game in its entirety.
The story opens when a Parisian taxi driver is viciously attacked and ends up in the hospital in a medically-induced coma. When he regains consciousness, he learns that he was attacked by a known serial killer who has been targeting taxi passengers. The police are at a loss to find the killer, so they enlist our driver to assist by keeping his eyes and ears open as he cruises the city at night. The police provide a set of initial clues to jumpstart his informal investigation.
The atmosphere of the game is very much noir. We have a cigarette-smoking taxi driver with a mysterious past, a murderer on the loose, dark characters, black and white artwork, and a very compelling soundtrack.
Gameplay is unique. You navigate a map of Paris and choose to accept or reject fares (who appear as icons at specific locations). In addition, you can stop to refuel or return home. When you click on a destination, your taxi (represented by the bold arrow shown below) moves along the map until you arrive.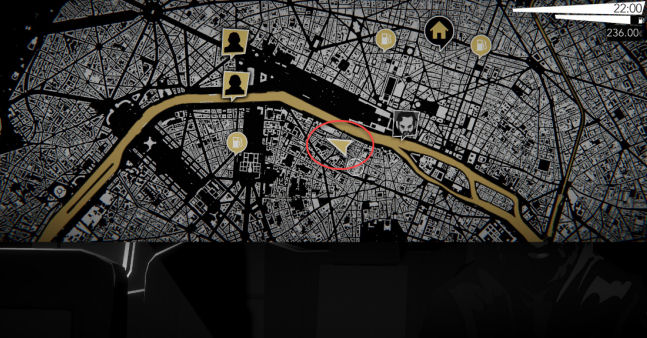 The lower portion of the screen is a view through the front windshield of the taxi, with the driver in front and the fare in back. Each fare results in the appearance of a new character and a chance to engage in dialog. You can click through the dialog or set it to run automatically until you are prompted to select a response. Dialog is presented as text, without voice acting.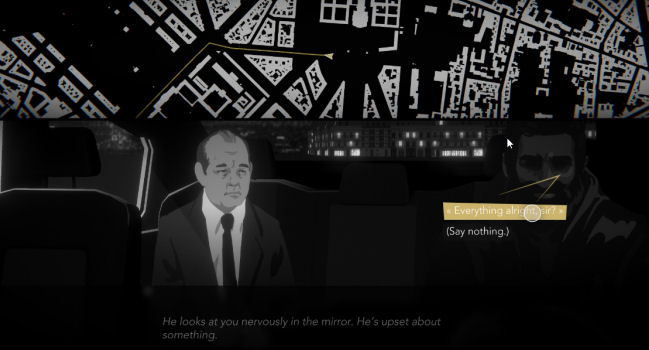 Some fares and some gas stops result in additional details being gathered about the killer and his crimes. These are indicated as new clues that can be reviewed when our driver returns home. Our taxi detective has set up a "war room" in his home to track the results of his investigation. As mentioned, I played only a few scenarios, so I do not have a real sense of how investigative results come together over the course of the game. I arrived home and was able to process a few documents before I ran out of time. I was not able to inspect documents but clicking on them appeared to add information to my cumulative results. This may have been due to me not understanding the mechanics of this portion of the game. With no in-game help or instructions, I just clicked and hoped for the best.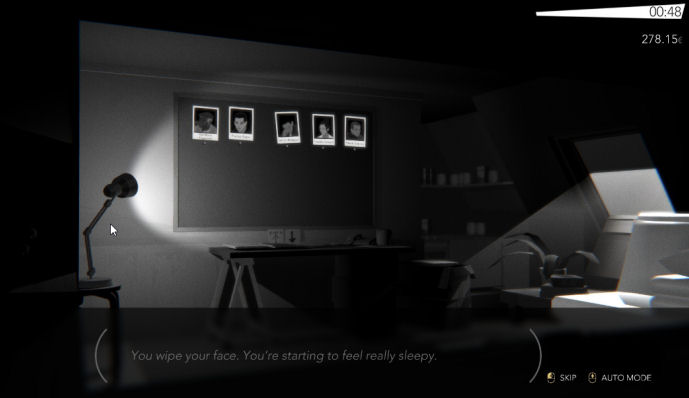 Sounds pretty straight-forward, eh? Not quite. Night Call has added simulation elements. The game is divided into nights and the clock is ticking. Your activities for any given night must be completed before daybreak. You also need to earn a living. The game opens with a balance of funds which is increased by fares and decreased by expenses. So, as in real life, you must manage your time and prioritize your tasks, weighing the needs of your investigation against your financial requirements. My first night with our driver was not stellar. I lost money (expenses outweighed fares) and I ran out of time to review the clues I had gathered. Perhaps, with practice, I might have improved!
Overall, I believe Night Call has the potential of being a very interesting game. I look forward to playing the full release!
+ Black and white graphics, coupled with unique soundtrack, create an intriguing environment and mood
+ Unique gameplay, coupled with the need to manage time and money, add complexity to the adventure and requires the player to think strategically
– For me, the interface was not intuitive, and my hope is that additional user help will be added to the final game
– For some, managing time and money in the game world may be too close to real life!
Trailer:

System Requirements (rather sparse at this point):
MINIMUM Windows:
OS: Windows 7
MINIMUM Mac:
OS: 10.8 Mountain Lion