The Mystery of Woolley Mountain Review
Find out why I plotzed while playing this Fractured Fairy Tale Adventure
Category: Reviews
Written by: Erik Parkin on May 19, 2019
Developed by: Lightfoot Brothers Studios
Published by: Lightfoot Brothers Studios
Release Date: April 10, 2019
Genre: Point-and-Click Comedy Adventure
Platform: Windows, Mac OS/X, Nintendo Switch
Adventure games are a very special form of entertainment. When art, animation, music, and interactivity are framed within a story that is rooted in hilarious comedy, the resulting gestalt is a communal mosaic which raises all five artforms to heights none of them could reach alone. Despite some slight imperfections, I found this to be true when I was playing The Mystery of Woolley Mountain by Lightfoot Brothers Studios.
This game is so funny you'll plotz! I've heard that expression several times growing up. It was on the forefront of my mind while playing this game, so much so, that I wanted to look the word up to make sure that I was doing it correctly. I am, after all, a perfectionist when it comes to gaming. According to Chabad.org, the word "Plotz" is a Yiddish verb which means "To shatter or explode with strong emotion1." For example, "To plotz with laughter." Yup, that's what I was doing while playing this game. If you play it, you will too!
Every great adventure game is rooted in a fantastic story. Woolley Mountain has a great one. It seems the Witch of Woolley Mountain has kidnapped the children of town, a simple, easy to understand premise. But the characters are so zany and off the wall, it reminds me of the Fractured Fairy Tale Hansel and Gretel by A.J. Jacobs2. The Mystery of Woolley Mountain is so fractured its bloody well smashed to bits and that' s awesome!
The name of our heroic protagonist is Van Damme Laudenklerr. His surname is pronounced like "Loud and clear." The moment he arrives on Woolley Mountain, he screws up and allows himself to be captured by the witch's henchmen. Hey, don't blame me. All I did was hit buttons and click on things. Now, it's up to his friend Garland, and the rest of his buddies, The Resonators, to save Laudenklerr and the children. Garland was my favorite character because I spent the most time guiding him on his journey. I also liked his accent and cheeky humor. I'm not going to spoil the story. Hilarious shenanigans ensue on the way to Woolley Mountain, which include a time travel paradox that, if I dwell on, would cause my brain to explode. It will suffice to say that the story, which is full of eighties' gaming references that made me pine for my misspent youth, was very satisfying once I saw the ending.
The graphics will intensify your urge to plotz. They remind me of eighties animation.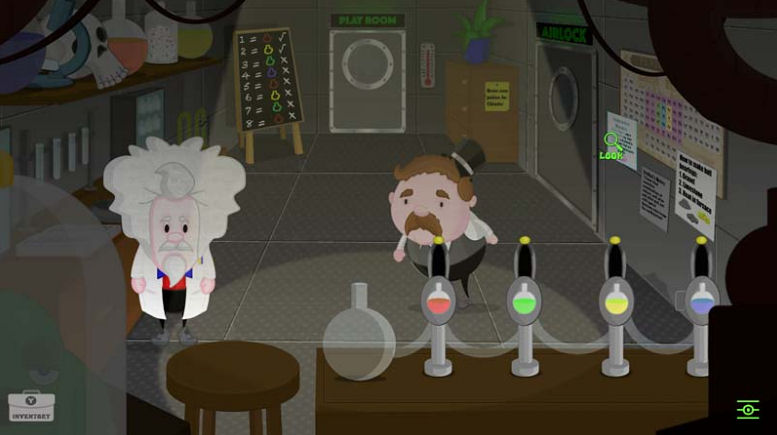 These characters look so funny!
This game is played through a third-person perspective, which I appreciate because I could use the character as a compass. I knew where I was going because I could see the direction the character was facing. I always lose my direction playing first-person games because my character isn't shown on-screen.
Adventure games require that the player achieve certain objectives to advance the story. The player must gather clues to these objectives through interacting with the world and characters. The objectives for this game were very straightforward. My favorite was combining all the of the colors in the large beaker to make purple so that Frithel, the character in the white lab coat, would return to the control room of the submarine. I found the means to do so in the drunken caterwauling of a talking fish. Seriously, I'm not making this stuff up! Upon completion, Garland would perform this hilarious happy dance.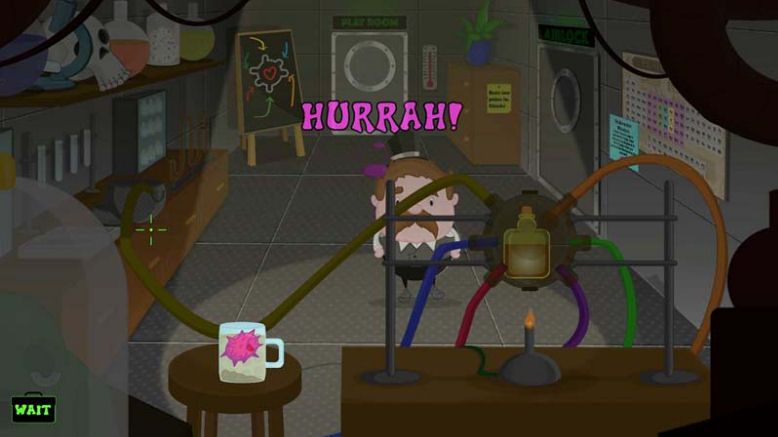 Had I been drinking I would have embarrassingly expelled liquid from my nasal cavity.
I won't spoil anything, but, at the end of the day, it's time for a dance party!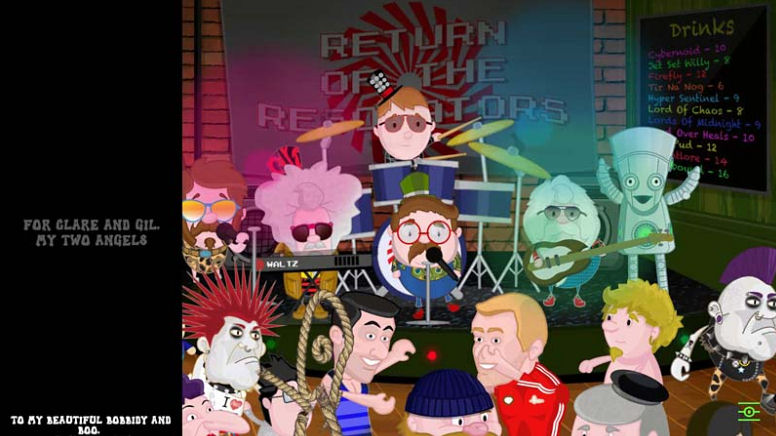 Leonardo da Vinci said, "Art is never finished only abandoned." Leonardo's observation is certainly applicable to this game. It does have a few rough edges that diminished my experience of playing. The four that I found most noticeable were: Difficulty in clicking on hot spots to move and speak to characters; the annoying loading screen after leaving every scene; the loud background effects on the submarine; and the repetitive animation when climbing the wires and ladders on Woolley Mountain.
Overall, I'm glad Lightfoot Brothers Studios made this amusing, family friendly, adventure game. I liked playing The Mystery of Woolley Mountain.
Grade B
+ It's funny

+ Did I mention it's funny? Because it is!

+ Clear objectives

+ Hilarious happy dance!

+ Third-person perspective

+ Lovely backgrounds

+ Neat puzzles

– Repetitive music and sound

– Annoying loading screen

– Very hard to know where to click on hotspots. That's what detracted from my experience the most and why I chose to give it a "B."

– Some repetitive animation
Trailer:

System Requirements

MINIMUM Windows:
OS: Windows 7
Processor: 1.8GHz Intel Core i5
Memory: 4 GB RAM
Graphics: Intel HD Graphics 4000
DirectX: Version 10
Storage: 1 GB available space
Sound Card: Built In
MINIMUM Mac:
OS: Sierra
Processor: 1.8GHz Intel Core i5
Memory: 4 GB RAM
Graphics: Igntel HD Graphics 4000
Storage: 1 GB available space
Sound Card: Built In
______________________________________________________________________
1https://www.chabad.org/library/article_cdo/aid/4058904/jewish/What-Does-Plotz-Mean.htm
2https://www.brownielocks.com/hanselandgretel.html