Clam Man Review
Help the Clam Man figure out what's fishy in Snacky Bay
Category: Reviews
Written by: Cindy Kyser on June 11, 2019
Developed by: Team Clam
Published by: Team Clam
Release Date: May 23, 2019
Genre: 2D Point-&-Click Adventure
Platform: Windows, Mac, SteamOS+ Linux
Team Clam is a three-person indie development team based in Finland. Martin Hanses, Jakob Hanses, and Madeline Ramsey have joined together to create a clever adventure that will put a smile on your face. Couple their efforts with original music by Martin Holm, and Clam Man is a delightful game!
Roll back the clock 30 years and head to the town of Snacky Bay. Our unlikely hero, Clam Man, is reveling in his position as the Junior Sales Assistant at the Snacky Bay Prime Mayonnaise Company. Life is looking good until he is summoned by Mr. Bosman and fired without cause. It is not in Clam Man's nature to clam up and take this lying down (if, in fact clams do lie down!). Instead, he gets steamed and decides to act. Convinced that nefarious forces are at work, he sets out to investigate.
The story begins in the offices of the mayonnaise manufacturer and leads to the criminal underbelly of Snacky Bay where a conspiracy is stewing. It is a story of corruption, collusion (relax… Russia is not involved!), and chicanery. But, in the true spirit of a heroic quest, good ultimately triumphs over evil and Clam Man emerges victorious.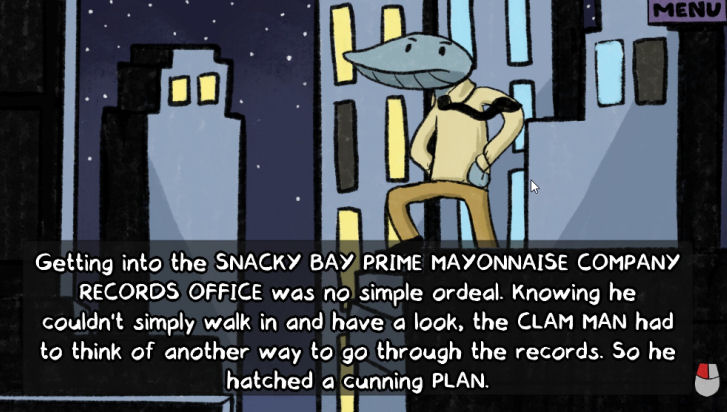 Clam Man has been created in 2D stylized graphics with limited animation. It is pure point-and-click without voice acting. Instead, you have music and sound effects. The music sets the pace and much of it is in a jazzy style that reminded me of the old Pink Panther theme song. The writing is silly and filled with puns and cultural references for the gamer who is paying attention.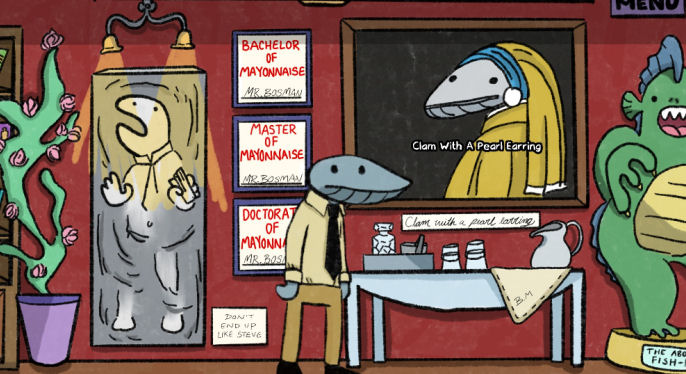 The game automatically saves at the start of every scene and this is indicated by a spinning clam. There are few inventory items to gather during gameplay and these are used or combined by dragging and dropping. Inventory items are used as one might expect which eliminates the need for the trial-and-error approach of "use this on that." The game is filled with dialog as Clam Man chats with co-workers and the residents of Snacky Bay in his quest for the truth.
There are a handful of puzzles, but they are not the focus of the game. Clam Man is a primarily a narrative. Although much of the dialog is not germane to the primary quest, it is worth taking the time to interact with everyone and everything. Don't be a chowderhead and try to rush through this game. Players in a hurry will miss much of the humor. It is a short game that can be completed in about 2 hours and I found my time spent in Snacky Bay to be lighthearted and enjoyable.
Even though Clam Man relies entirely on the mouse for gameplay, I struggled with the interface. My natural inclination is to left-click on an object to interact. In this game, you right-click to interact with objects and characters and left-click to go through dialog trees. You left-click at the top of the screen to pull down the inventory display. You right-click to exit a scene. So, to engage in a conversation, you right-click on the character and then begin left-clicking to advance the dialog. Conversation responses are scrolled through by using your mouse to drag the list up or down.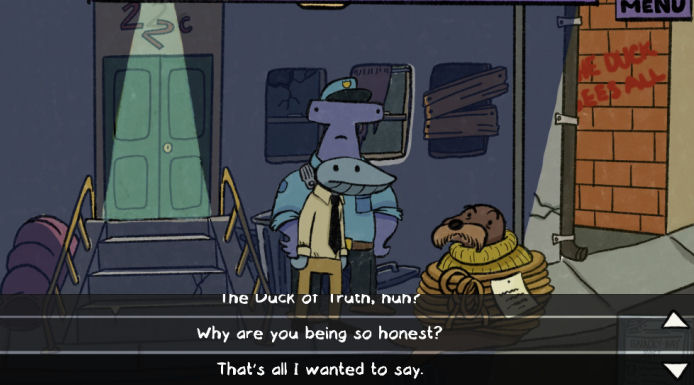 I truly did not know what to expect when I started Clam Man. I was pleasantly surprised to find a relaxing game that kept me smiling. Sometimes it feels good to just sit back and experience a good story without complex puzzles that require serious thinking. Actually, this game made me happy as… (okay, I've got to go there…) a clam!
Grade B+
+ Unique graphics coupled with perfect original music make Snacky Bay an ideal vacation spot
+ Short game with easy puzzles and humorous dialog makes this an adventure that is just plain fun to play– Mouse-clicking is not intuitive (right-click here and left-click there)
– Gamers who do not like to do a lot of reading may want to look elsewhere
Trailer:

System Requirements

MINIMUM Windows:
OS: Windows 7, 8 or 10
Processor: 1.8Ghz and upwards to infinity and beyond (but yeah make sure it's a processor with SSE2 instruction set support)
Memory: 2 GB RAM
Graphics: Most integrated graphics chips work fine (as long as you dont dip them in ranch haha get it because chip)
DirectX: Version 10
Storage: 1500 MB available space
Sound Card: One that can make underwater sounds, or not. You don't really need one. It's cool.
Additional Notes: If you regularly play games on your PC, Clam Man should run just fine
MINIMUM Mac:
OS: MacOS 10.11 (EL CAPITAN)
Processor: The classic mac processor
Memory: 2 GB RAM
Graphics: The ones you have in your mac
Storage: 1500 MB available space
Sound Card: The classic mac sound card
Additional Notes: Most macs and macbooks from 2014 and up will run Clam Man perfectly well!
MINIMUM SteamOS +Linux:
OS: Ubuntu 12.04+, Mint 14+ (kernel version 3.2, both 32- and 64-bit)
Processor: 1,8 ghz (Requires SSE2 instruction set support, i.e. most modern processors)
Memory: 2 GB RAM
Graphics: Most integrated graphics chips work fine (as long as you dont dip them in ranch haha get it because chip)
Storage: 1500 MB available space
Sound Card: One that can make underwater sounds and play the trademarked Clam Man trailer on Youtube
Additional Notes: Get in touch with us if you're unsure if you can run it or not!