Can an amiable, somewhat simple-minded handyman really save the world?
July 20,
Here we have an enjoyable little gem from developer Backwoods Entertainment and developer/publisher Application Systems Heidelberg, assisted by Alasdair Beckett-King (Nelly Cootalot). Want to know more? Okay! Shift into long-form point-and-click adventure mode and come with me…
Story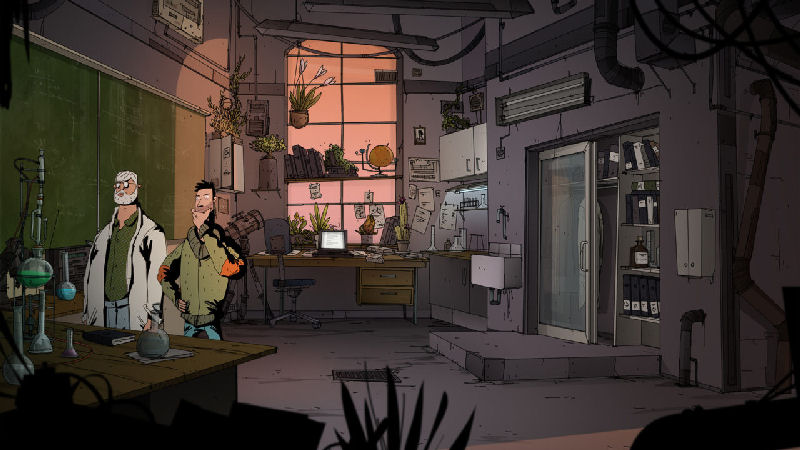 Welcome to Yelltown, a burg in the grip of a deadly virus which, in the popular lexicon, is known as Yelltown Fever. It's dangerous. It's nasty. It can kill a person in a matter of hours. Ugh.
To hear politicians talk about it (ahem), there is little risk of contagion and the virus is not likely to spread. Yeah, right.
Meet easygoing player-character Harper Pendrell, a rather unambitious, laid-back handyman who lives in Yelltown. He picks up odd jobs here and there, but mainly fixes things for friends free-of-charge. His multi-tool is his best bud. And for some reason, he's immune to the virus.
Harper's scientist friend, Professor Rupert MacBride, also lives in Yelltown. He is searching for a cure.
Harper inadvertently stumbles into a conspiracy surrounding the virus when he comes across a woman in the street who's dying. She gives him a message to deliver to newspaper reporter Jane Helliwell. He spends some time locating her and does so.
It's then up to Harper, Helliwell and MacBride — with the help of an eccentric artist named Caldero and a somewhat overzealous park ranger named Jervis — to track down who or what's behind Yelltown Fever, and try to prevent an all-out worldwide epidemic. This will take them (especially Harper) on quite a journey.
At times, Harper has to purchase items he needs. Interestingly, as lackadaisical as he seems to be concerning actual work-for-pay, he always has plenty of money. I wish I knew his secret…maybe I should get a multi-tool.
Should I Really Be Laughing About This?
Yelltown Fever is serious business. Its effects are rather gross, but this doesn't keep Harper from making wisecracks and witty remarks about the situation. That's the kind of guy he is. Besides, when faced with a dark and sinister disease that kills people and is rapidly spreading, you need to have a sense of humor!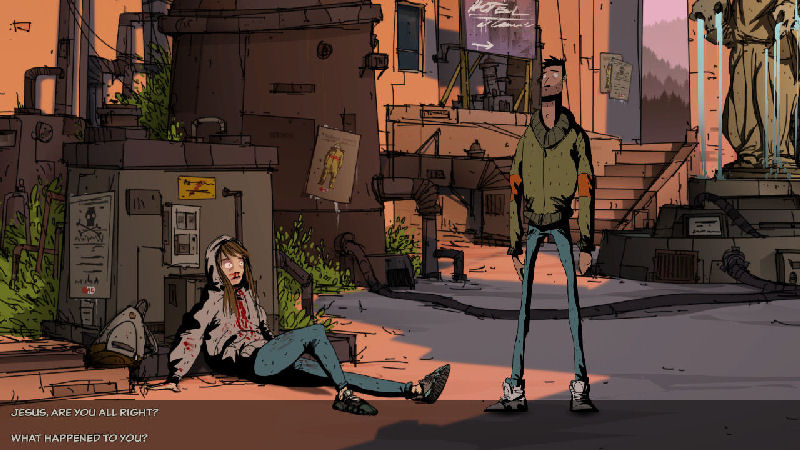 To its credit, Unforeseen Incidents achieves a skillful balance between serious and genuinely funny.
Mechanics
The game has some nice options. You can choose language, sound levels (music, sound effects and voice), subtitles and font style. You can save whenever you want (I'm in heaven). There are plenty of save slots.
Harper is lanky and walks none too quickly in a sort of shuffle-slide. Helliwell walks in a similar fashion, only more slowly. If I had one wish, it would be a faster gait for both.
You can hurry Harper along somewhat if you double-click the arrow that indicates he'll be moving to a new screen. If Harper needs to walk somewhere within the same scene, it's back to shuffle-slide.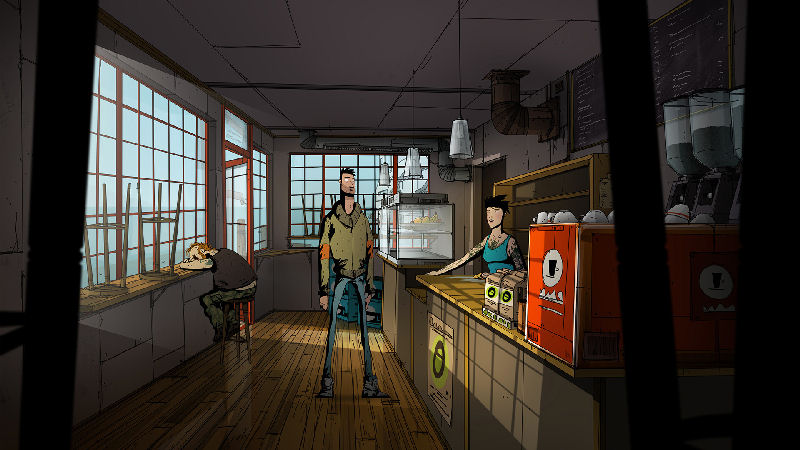 For covering greater distances, you get a clickable map that expands as the game progresses. Thank you, developers.
Inventory items are carried up top and are accessed by resting your pointer over that area of the screen. The game can be played either full-screen or windowed.
Have Multi-Tool, Will Travel
Harper covers a lot of territory in Unforeseen Incidents. Each location he visits has a different look and atmosphere, and is populated with offbeat/quirky NPCs. This being an adventure game there are puzzles to solve, as well as do-this-for-me-and-I'll-do-that-for-you trade-offs.
Of course, Harper ends up carrying a lot more than his multi-tool as he collects items to use in his investigations. But without the multi-tool, he wouldn't get very far.
Are You Puzzled?
Unforeseen Circumstances has a wide variety of puzzles. Some are relatively easy, some are reasonable and some are neither of these things.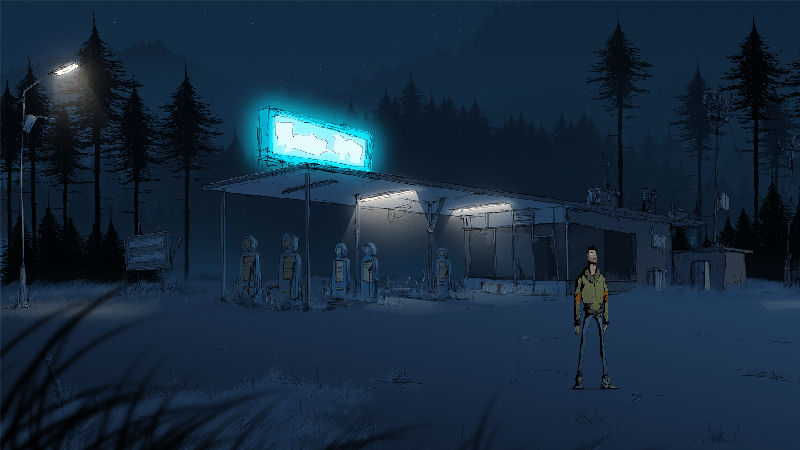 A couple of them had me wanting to rip my hair out. The worst of these involves having to sneak past some bad guys to get to a needed item.
The game rewards unsuccessful sneaking with death. No need to wait for Yelltown Fever! I died over and over and over. And over. Each time this happened I was returned to the beginning of the sequence so I could die again. And again and again.
When I was finally able to negotiate a path through the bad guys without being killed, I felt no sense of accomplishment. There had been no skill involved. Only luck.
Also, in-between the game's four chapters are "hacking" puzzles that get more difficult as you progress. I'm rather inept when it comes to this type of puzzle. If you are as well, just keep fiddling with them and you'll eventually succeed. This is necessary in order to progress.
I did find the game's other puzzles to be challenging but reasonable, which helped offset the ones I found difficult.
Well, Looky Here…and Listen Over There
Unforeseen Incidents has a distinctive, hand-painted art style that suits the game perfectly. It is, in fact, some of the best I've seen.
Voice acting is excellent. In the English version (the game is also voiced in German, and subtitled in Italian, Spanish and French), Harper's voice has an ideal "everyman" quality thanks to Matthew Curtis. Helliwell is voiced in no-nonsense but likeable fashion by Jessica Carroll. Professor MacBride, who is voiced by Steve Fortune, speaks in a light Irish brogue. I loved listening to him.
Oh, one word about dialog (no pun intended)… When Harper makes a comment about something, clicking again will often reveal additional comments.
Okay, here comes an itty-bitty dialog spoiler that I can't resist including. When Helliwell asks Harper to take some pictures, he tells her he's no photographer. She comes back with, "It's just point-and-click. A total idiot could do it." A great LOL moment for me, and kudos to whoever wrote that!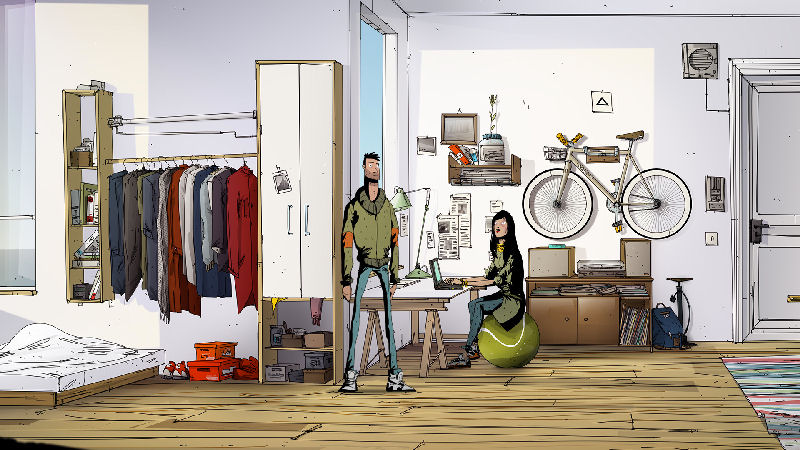 The game's music is also excellent. It's appealing, varies in tone and is never intrusive.
Here's an interesting tidbit: at one point, Harper must visit hotel bar that's below ground level. Music is playing in the bar. As long as Harper remains on the ground floor, the music is muffled. When he descends to the bar, the music becomes distinct. When he goes back upstairs it's muffled again. I love this kind of detail.
Final Thoughts…
I thoroughly enjoyed spending time with Harper and company. They are likeable characters, and even NPCs with relatively small roles are sufficiently fleshed out to provide a sense of their personalities.
I'm sure it took me longer than most to complete Unforeseen Incidents due to my puzzle-solving woes. According to the developer, the game should take around 8 hours to complete — depending, of course, on the number of sticking points you encounter.
If you're a point-and-click adventure game aficionado who wants something meaty to sink your teeth into, I definitely recommend Unforeseen Incidents.
Grade: A-
+ Likeable characters

+ Distinctive, hand-drawn art

+ Great voice acting

– Some of the puzzles can be difficult

– Characters could move a bit faster
Trailer:
System Requirements

MINIMUM Windows:
OS: Windows 7 64-bit
Processor: 1.2GHz
Memory: 4 GB RAM
Graphics: 1024MB VRAM
DirectX: Version 11
Storage: 6 GB available space
MINIMUM Mac:
OS: Mac OS X 10.9+
Processor: 1.2 GHz
Memory: 4 GB RAM
Graphics: 1024MB VRAM
Storage: 6 GB available space
MINIMUM SteamOS + Linux
OS: Ubuntu 16.04+, SteamOS+
Processor: 1.2 GHz
Memory: 4 GB RAM
Graphics: 1024MB VRAM
Storage: 6 GB available space