Throw Newton's Law to the wind and discover your purpose in Altered Matter's upcoming platform puzzler
Category: Upcoming Release
Written by: Cindy Kyser
Developed by: Altered Matter
Estimated Release Date: TBD
For: Windows, Switch,  PS4, Xbox One, Nintendo Switch

Altered Matter is a Barcelona-based independent video game development group. Their stated goal is "to use entertainment as a vehicle for artistic expression." Etherborn is their first project and reflects this team's love of art. A first look at the prototype indicates that Altered Matter is a group with many talents. Etherborn has the feel of a world that M.C. Escher  might have created if he had had tools to add color, light, and music to his work.
Throughout 2016 and 2017, Altered Matter has continued to win multiple gaming awards as they have demonstrated progress on Etherborn. Most recently, the game was recognized as the "IndieCade Festival 2017 Official Selection" (Los Angeles) and the "EGX Leftfield Collection 2017 Official Selection" (Birmingham).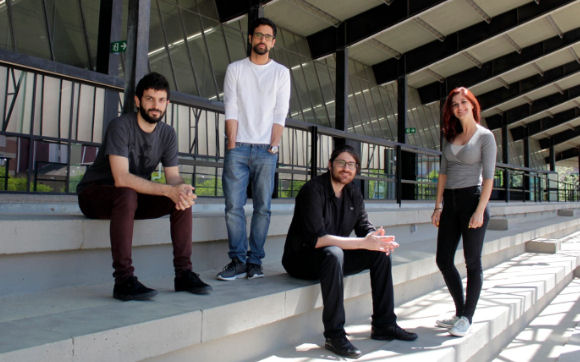 To expedite the release of Etherborn, a Fig Campaign  has been launched to raise approximately $30K (US). The campaign is proceeding well, with 40% of funds raised and over a month left to go.
Etherborn is described as an "environmental puzzle platformer built on exploring and understanding gravity shifting structures." This means that you can traverse all surfaces without regard to Newton's Law of Universal Gravitation. At first glance, I am reminded of UsTwo Games' tablet offering Monument Valley which uses a similar gravity-defying landscape framework. However, any comparison ends there.
Etherborn adds a narrative that has you playing as a "voiceless being" in search of the meaning of personal existence. To this end, you will follow an "ethereal voice" through an artfully crafted landscape of fantastic structures. The overall puzzle is to understand and traverse the environment towards your goal. Thus, you will be a traveler with purpose. Along the way, you will collect "mysterious spheres of light" used to activate switches, alter the environment, and aid you in your journey.
For more information on game progress, visit the Altered Matter web site.