For those seeking a totally different video game experience, I would highly recommend Beckett. It is a playable work of art.
Category: Review
Written by: Cindy Kyser on May 2, 2018
Developer: The Secret Experiment
Publisher: Kiss Publishing, Ltd.
Genre: Point-and-Click Interactive Experience
Release date: February 27, 2018
Platforms: Windows, Mac
Indescribably Entertaining 
After playing Beckett, I have no idea how to describe the experience. It is definitely not a game in the traditional sense. There are no traditional puzzles and no inventory to cart around. Instead, it is an incredibly creative blend of art, poetry, and sounds. Based in the U.K., The Secret Experiment is self described as "a production studio of alternative thought, original voices and stories told through video games." They describe Beckett as "surreal noir."

Beckett is an aging detective with a smoker's cough and a host of regrets. The game opens in his office with an incoming phone call from Daisy Starlight, who reports that her son is missing and requests his help. Beckett's reply is "I don't do domestics" and he hangs up. In the end, he is coerced into taking the case and follows a series of clues looking for Peregrine Starlight.
Clues lead him to some very interesting locations. Some areas have characters to observe and converse with. Other scenes are uniquly interactive such as avoiding brain zaps and rotating monuments. Throughout his journey, Beckett reflects on the loss of his beloved Amy. We never fully understand his tragedy but are privy to snippets of his memories and emotions. He muses on the questions that haunt us all: Why am I here? What defines my existence? What has my life meant?
Nothing about Beckett is ordinary. Scenes are presented in sepia tones, with an occasional accent of color.  Interactive scenes are presented in a highly stylized top-down view of a location. Beckett is a dot (a black circle) that moves across scenes. We see Beckett's face intermittently as a small icon on the larger screen. Other characters are represented by icons rather than faces which leads to some very unique visual metaphors. Dialog is presented in a "He said," "She said" format that is clicked through.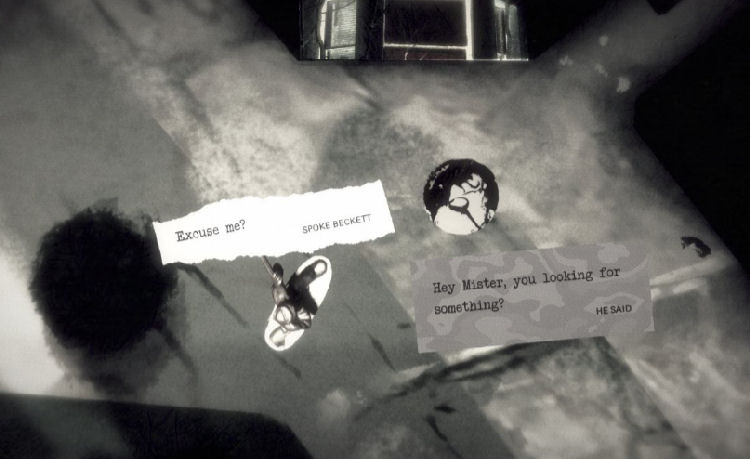 Throughout Beckett, the player is treated to art and freestyle poetry. There are pictures to view and collages of words that come together in a powerful way.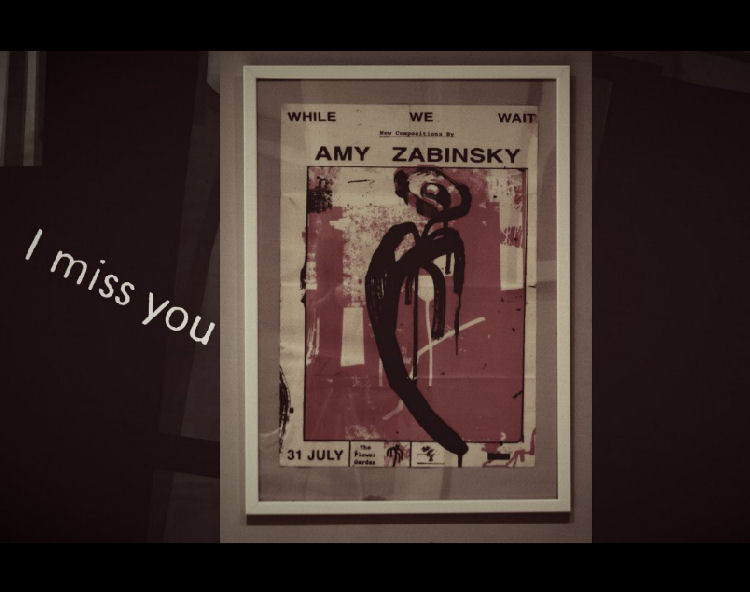 There are also several backstory segments that are told in the form of still pictures with on-screen narrative. These are done in a completely different graphics style, with limited color.
Although Beckett's story follows a familiar plot path (case assigned, clues followed, case outcome revealed), there is nothing familiar about his journey. Instead, the missing person case provides a thread that Beckett follows through a series of bizarre and (often) chilling encounters. The story is dark, with themes of despair, loss, and personal reflection. Even a traditional detective task, such as bugging someone's home to "listen in," takes a macabre turn in Beckett's world.
Described only as "an original work of fiction," Beckett was written and directed by Simon Meek. He also composed the music. Graphics are the work of Hermann Serrano, Sean Mulvenna, and Al White.  For some additional insight into the evolution of this surreal piece of playable fiction, check out writer Alex Kane's Rolling Stone article that was published to coincide with the game's release on Steam.
For those seeking a totally different video game experience, I would highly recommend Beckett. It is a playable work of art that I had a visceral reaction to. It draws you in, despite content that made me cringe at times. I've spent 5 hours in Beckett's world and plan to replay the game because I could not absorb all the nuances with a single pass-through.

Grade: A
(find out more about our grading system)
+ Unique combination of art, poetry, and sound creates a compelling and very unusual player experience


+

Groundbreaking – Beckett is in a genre of its own

+ Those who appreciate video games as a creative platform will not want to miss this game


– Those seeking a traditional adventure may want to look elsewhere
Trailer:

System Requirements
MINIMUM Windows:
Requires a 64-bit processor and operating system
OS: A 64-bit operating system is required spanning from Windows 7 SP1 and up

Processor: Intel Core i3-2100 processor or an AMD equivalent
Memory: 4 GB RAM
Graphics: Nvidia GeForce GTX 660 (2GB) or AMD Radeon HD 7870 (2GB) graphics card
Storage: 5 GB available space
MINIMUM Mac:
Requires a 64-bit processor and operating system
OS: MacOS 10.11.6 or Newer

Processor: 3.0GHz Intel Core i5

Memory: 4 GB RAM
Graphics: 2GB AMD R9 M290 or better

Storage: 5 GB available space