Throwback Thursday: Bear With Me – Episode 1 Review
Very short. More like an interactive cartoon with click points than a point-and-click adventure.
As of April 5, 2018, Episodes 1, 2 and 3 are available from the JA Store
Exordium Games is a small, indie game studio located in Zagreb, Croatia. They're a multi-genre development group with past releases that include a strategy title (Agenda) and an action title (Zero Reflex). They are currently working on a new action title (Nephil's Fall) and Bear With Me is their first entry into the adventure gaming market. This title has been in development for over 2 years and an early prototype was awarded the Best Indie Game Winner at the Reboot Infogamer show held in Croatia in 2014.
Bear With Me is self-described as a stylish horror noir point-and-click adventure game.  To be fair, the word horror appears in quotes. Unless future episodes take a very dark turn, this is not an adjective that comes to my mind when describing this game.
The story revolves around Amber; a 10-year-old girl whose brother, Flint, has disappeared.  To find him, she enlists the help of Ted E. Bear; a private eye who lives in her closet. As they get ready to search, there are references to the nefarious Red Man who is starting fires and wreaking havoc in their city of Paper Town. The ensuing chaos results in the city being cordoned off. Episode One introduces the characters and focuses on their preparations to leave Amber's house and getting through the blockade to enter Paper Town.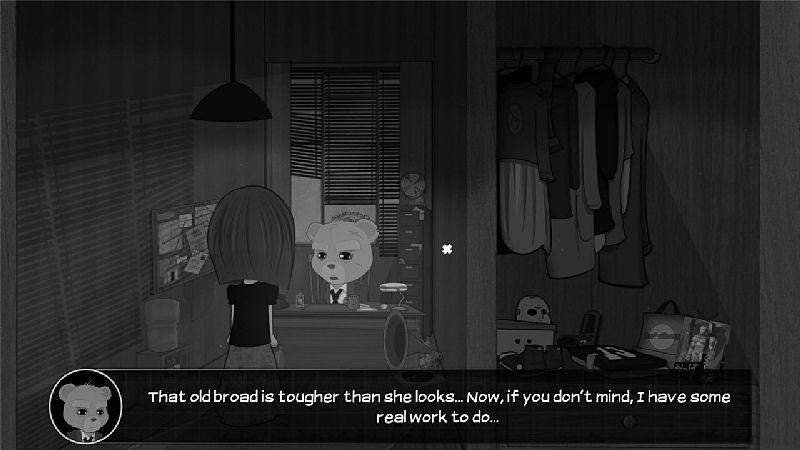 Ted E. Bear can best be described as Winnie-the-Pooh does Sam Spade. Ted has all of the trappings of a classic film noir detective, sans fedora. Amber is accurately portrayed as a precocious pre-teen. During the game, control is switched between Amber and Ted, who traverse rooms in Amber's house and interact with a handful of other characters.
The game is presented in black-and-white animation with some red used for emphasis. It's in the style of a traditional cartoon with cut scenes that are presented as comic-book-like frames. The soundtrack is a mix of background music and narration with professional voice actors. It's a pure 2D point-and-click adventure with inventory, puzzles, and dialog. The game auto-saves, and also provides the player with the ability to save on demand to multiple save slots.
Bearly an Adventure
As in the tradition of episodic gaming, this release of Bear With Me is intended to give the player a feel of what is to come and to build enthusiasm for future episodes. My initial (albeit brief) foray into the world of Amber and Ted E. Bear accomplished neither objective.
The first episode is incredibly short. It can be played in well under an hour, especially if one is not a fan of extended dialog and is prone to shortcutting by reading and clicking through lengthy narratives. For even the novice adventurer, the puzzles are straightforward and very easily solved. As the game's environment is limited to a few rooms in Amber's house, there isn't a lot to explore. While the price point for this game has been set low, these is very little play time for your investment. I admit that my response was Are You Kidding? when the game ended so abruptly.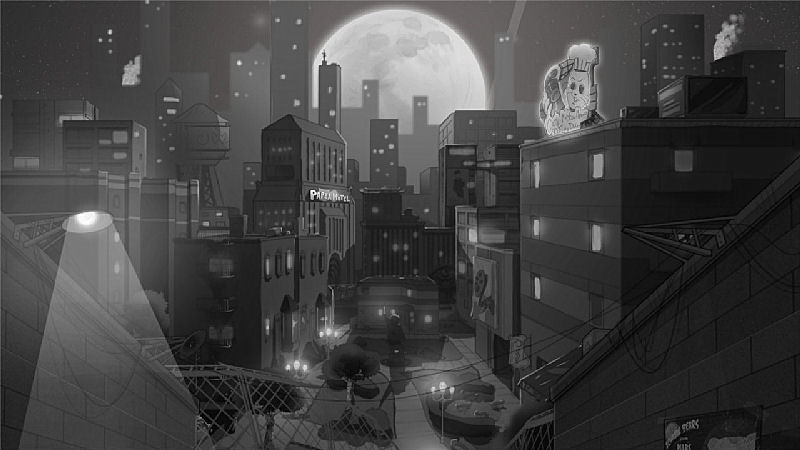 While the graphics and voice-overs are very well-done and some of the dialog is quite witty, it didn't feel like an adventure game. I'd describe Bear With Me as an interactive cartoon with click points. Most of your time playing this game will be spent listening to dialog, watching cut-scenes, and waiting for characters to mosey across a room.
In summary, I have to commend Exordium for the obvious time and effort they put into this game. It is a stable release and the artwork, dialog, and soundtrack have been crafted with care. At the end however, it's just not a gaming experience that I enjoyed or a story that left me wanting more.
Grade: B
+ Quality animation and sound track


+ Clever dialog, especially if one is paying attention to the grumblings of Ted E. Bear

+ Black and white animation reinforces classic film noir feel

– Very short episode

– Traditional gamers may tire of watching rather than doing

 
Trailer:
System Requirements
MINIMUM PC:
OS: Windows XP+

Processor: SSE2 instruction set support, generally everything made since 2004 should work
Graphics: DX9 (shader model 2.0) capabilities; generally everything made since 2004 should work
Storage: 1.2 GB available space 
MINIMUM Mac:
OS: Mac OS X 10.7+

Processor: SSE2 instruction set support, generally everything made since 2004 should work
Graphics: DX9 (shader model 2.0) capabilities; generally everything made since 2004 should work
Storage: 1.1 GB available space