Nephise Ascension Review
The addition of the action-like elements to an already perfect "walking" paradigm makes Nephise Ascension very engaging and one that I would recommend
I only recently discovered Tonguç Bodur's games when I played and  reviewed Bottle: Pilgrim earlier this year. Mr. Bodur is a graphic and web designer who has created quite a few "walking simulator" titles since he began in 2015. He recently released Nephise Ascension which is the third in a series (Nephise in March of 2017 and Nephise Begins in April of 2017).

While Nephise Ascension is a stand-alone game, I found myself wishing that I had played the first two titles and knew more about the Nephise's history. She is an exotic, drop-dead-gorgeous woman with mystical powers. On a search for orbs (which are a source of energy), she lands in Dragon Valley and finds herself trapped. Although it is a place of wonder and beauty, there is no apparent exit. She finds several towering rock gates but all are sealed tight. Her challenge is to solve the mysteries of the valley, open the gates and find her way home.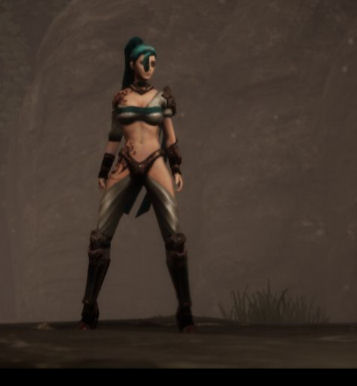 More Than a Walk in the Park
This game is way more than a walking simulator. I was immediately drawn in by Nephise Ascension from the very beginning. Like other games by Tonguç, the graphics are stunning and the soundtrack is enchanting. I fell in love with the music in the opening chapter. I can't quite explain it but the soaring vocals and instrumentals touched something primal within me. The music is complemented by the fact that Nephise's tale is narrated by an older woman in the tradition of an ancient storyteller passing on a tribe's oral history.
In addition to sights and sounds, the gameplay in Nephise Ascension is stepped up a notch from previous titles. It is played from a first-person perspective and was built with the Unity Engine so you are free to explore in all directions. Each of the massive gates leads to a unique environment that culminates with the retrieval of a statue and a return to Dragon Valley. When the statue is properly placed in the valley, the next gate opens.
The game is divided into 10 short chapters, with an autosave at the end of each. In addition to exploration, two chapters have an exercise in finding orbs. Although the orbs emit light (making them more visible), these hunts require persistence as you perform a grid search in a complicated landscape of structures, rocks, trees, hills, and valleys. In other chapters, Nephise finds herself in areas fraught with danger. Her path includes pulling levers, crossing tightrope-thin bridges, leaping between moving platforms, lighting torches and running across sliding sections of rock. Although most do not require advanced platformer skills, a certain amount of coordination and timing is required to survive.  My adrenaline levels were high as I leaped, missed, fell to my death, and tried again. For the less coordinated player, the game is very forgiving. When you fall, you restart right back where you left off with little or no replay required.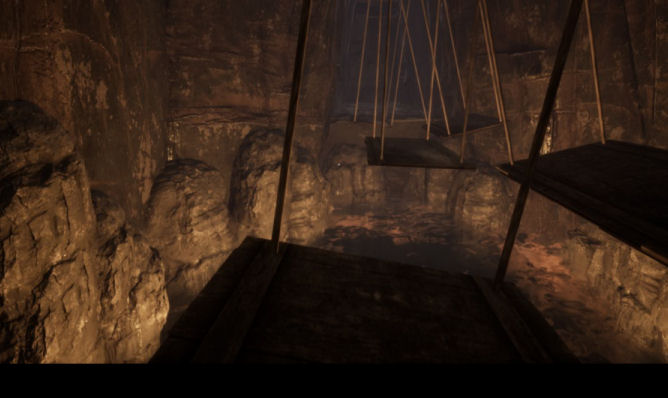 To add to the game's intensity, some chapters include the risk of getting killed by hostile entities. As it turns out, the skeletons are not terribly aggressive and can be avoided. However, a close encounter with any one of them is generally fatal (to you).
I struggled a bit with the key controls. As with other Unity games, the WASD keys are used for walking and the Left Shift for running. The mouse is used for scanning and navigating. I am accustomed to holding the Left Shift down to run and releasing it to return to walking. In Nephise Ascension, the Left Shift is a walk/run toggle. If you are walking and press the Left Shift, you will be running until you press it again. This is a subtle interface difference to remember when you are crossing an area that requires precise run/jump combinations!
As a genre, "walking simulators" are often perceived as passive gaming. Thus, I would not put Nephise Ascension in that category. This is an adventure with activity and some interesting challenges. I spent about 3 hours helping Nephise find her way. I took my time and really enjoyed the experience as I searched for orbs and honed my less-than-perfectly-timed jumping skills. I never tired of the beautiful scenery and the music which combine to create a totally different ambiance in each section of the game. The amount of narration is just about right as you learn all about Nephise without being overwhelmed.

To summarize, I really like the change in direction that Nephise Ascension represents for Tonguç Bodur. For me, the addition of the action-like elements to an already perfect "walking" paradigm makes this game very engaging and one that I would recommend.
Grade: A-
 (find out more about our grading system)
+ Gorgeous scenery with mood-altering soundtrack

+ Don't be fooled. This is not a "walking simulator"

+ Action-like elements add to the overall player experience but are not so intense as to scare off the adventure purist

– No explicit save, so stopping in the middle of a chapter means starting that chapter over

– Without going on a rant about how women are portrayed in games, I will only say this: Although Nephise has a lot to show off, do you really think she would undertake an adventure in an outfit from Victoria's Secret???
Trailer:
System Requirements
MINIMUM Windows:
OS: Windows 7 or higher 64-bit
Processor: Intel Core 2 Duo 2GHz, AMD Athlon 64 X2 2GHz

Graphics: NVIDIA GT 750 Ti 2 GB or AMD RADEON HD 7850 2 GB
Storage: 10 GB available space
Sound Card: DirectX Compatible Sound Card with latest drivers
Additional Notes: This game needs all Windows updates installed