For those who enjoy solo exploration and solving a mystery along the way, The Station is an exemplary game that you should not miss
Category: Review
Written by: Cindy Kyser on April 28, 2018
Developed by: The Station
Published by: The Station
Genre: 3D Exploratory Adventure
Release date: February 19, 2018
Platforms: Windows, Mac, SteamOS + Linux
The Station began when a group of veteran video game developers came together to tell a story and create a unique gaming experience. Once the concept was fully defined and work was underway, a Kickstarter campaign was launched in 2016 and fully funded. In February of this year, The Station hit Steam.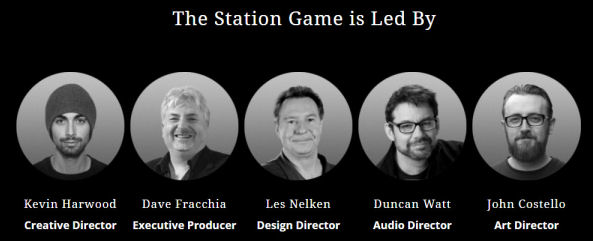 On the Cusp of a New World
Prior to playing The Station, I would strongly encourage you to visit the Axiom Space Agency web site. This site provides a wealth of details that give the game context and can be thought of as a "pre-mission briefing." The fictional space agency is described along with its leadership and prior accomplishments in space. The site also provides technical details on the Espial Space Station including an introduction of the crew and a summary of the current mission to Psy Prime (a newly discovered planet with a sentient civilization).
Initial observations of Psy Prime have revealed that the civilization there is engaged in a civil war. Not wanting to risk an encounter with hostile aliens, the Espial has been sent to hover above the planet as an observer and report back with findings. The mission is proceeding smoothly until systems begin to shut down on the ship and all communication with the crew ceases.
Axiom sends you on a recon mission to assess the situation and this is where The Station game begins. Playing from a first-person perspective, you arrive at the Espial to find that some systems are, in fact, non-operational. To make matters worse, the 3-person crew is nowhere to be found and there are ominous signs that all is not right in this world. Your personal mission is to explore the ship, make the necessary repairs, and find the crew.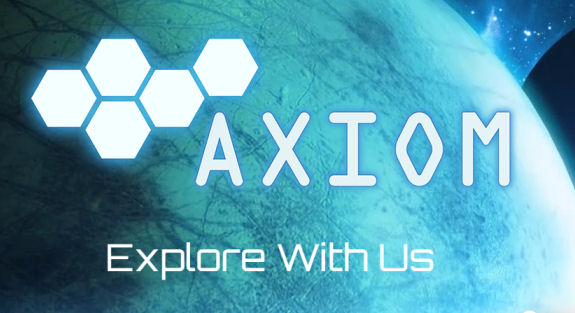 The Espial is a huge space station equipped with full amenities that include living quarters, recreational space, laboratories, medical facilities, maintenance, storage bays, etc. Its sheer size is a bit daunting at first but I soon had a mental map constructed and was moving about with ease. Not all areas are immediately accessible and your first task is to figure out how to open locked sections. Some doors require a combination and others a key card. In some cases, power must be turned off or restored. You quickly slip into the role of "space detective/mechanic" to arrive at solutions for the conundrums you encounter.
Built with the Unity Engine, The Station provides free exploration of a richly detailed 3D environment. There are hundreds of objects to examine, with only a fraction of them required for the game. As you enter each room, you will find yourself sifting through the contents, in search of meaningful clues and useful items. Keep your headphones on because the soundtrack for The Station adds to your immersion. Air lock doors "whoosh," equipment clanks, and your footsteps echo as one might expect in an empty space ship.
Inventory is handled in a unique way. Certain items (such as a key card) are picked up and remain with you for use when needed. Other items (such as a spent energy cell) are not stored in inventory and must be physically picked up and "carried" from one place to another.
To assist you, the Espial is equipped with Augmented Reality technology that gives you access to a map of the ship, inventory, audio logs, and objectives (current and completed). This is an awesome feature that proves incredibly useful while playing The Station.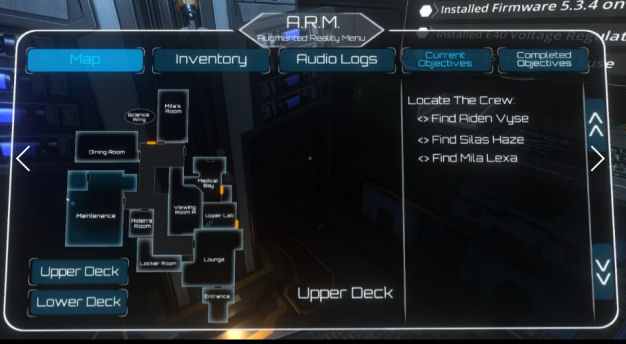 Puzzles in The Station are primarily focused on gaining access to closed areas and fixing broken equipment. Nothing is ever easy in an adventure game and The Station is no exception. However, all tasks are realistic and appropriate for the setting. Repairing equipment may require locating spare parts, finding the right tool, following instructions, and tracing connections. Access may require finding a key card or figuring out a personal entry code. There is enough variety in the puzzles to keep the game extremely interesting, from start to finish.
As you traverse the Espial, you learn about the crew by reading their emails and messages and listening to their recorded mission logs. This, coupled with the knowledge you gain by examining each member's personal items, builds a full picture of them as "real people" with complex relationships and unique mission perspectives. Kudos to The Station team for their amazing attention to story details in the absence of character interaction.
Ultimately, the question of what happened to the crew is answered after a multitude of prerequisite puzzles are solved. I will not venture into spoiler territory and strongly encourage you to board the Espial and begin your own search!
What are You Waiting For?
To summarize, The Station is an outstanding game that I would recommend to those who do not mind exploring "on their own." It is beautifully designed with an intriguing story and a surprise ending that I did not see coming. An artfully crafted environment and an immersive soundtrack make this a true "you are there" experience that you should not miss. The Station Team is currently working on a VR release which can only make time on the Espial that much more real.
Grade: A
+ Detailed 3D environment and "spacey" sound track create a truly immersive experience


+ Solving diverse "real world" puzzles adds to the authenticity of your mission


+ Fully-developed story a twist at the end makes this much more engaging than a typical "empty landscape" game


+ Using the Axiom web site as a vehicle for game context is very effective
Trailer:
System Requirements
MINIMUM Windows
Requires a 64-bit processor and operating system
OS: Windows 7 or higher, 64-bit
Processor: Intel Core i5-2500k or AMD equivalent
Graphics: GeForce GTX 450 or AMD equivalent
Sound Card: Supports 7.1 surround sound
Additional Notes: Controller Support Intended for Xbox-360 Controller
MINIMUM Mac
Requires a 64-bit processor and operating system
Processor: i3 Dual Core 2.0 Ghz

Graphics: Video card with 512MB of VRAM
Storage: 4 GB available space
Sound Card: Supports 7.1 surround sound
Additional Notes: Controller Support Intended for Xbox-360 Controller
MINIMUM SteamOS + Linux

Requires a 64-bit processor and operating system
Processor: Intel Core i5-2500k or AMD equivalent

Graphics: GeForce GTX 450 or AMD equivalent
Storage: 4 GB available space
Sound Card: Supports 7.1 surround sound
Additional Notes: Controller Support Intended for Xbox-360 Controller