Journey to the underbelly of nostalgic gaming and help Jeff stave off the apocalypse in Jengo – a point-and-click adventure planned by Robot Wizard
Category:
Upcoming Release
Written by: Cindy Kyser
Genre:
Introspective Platform Puzzler
Estimated Release Date: Q1 2019
For: Windows, Steam Linux
Developer:
Team Gotham
More info:
Jengo: An Upcoming Game About an Old-School Gamer Lost in Modern Times – January 12, 2018 
Robot Wizard is an indie game studio based in South Africa. It is led by Louis Du Pisani and Graeme Selvan who are both veterans in the video game industry. Having worked on Jengo as a parttime project, they decided to take the plunge and launch a Fig Campaign  to fund its completion. Theirs is an ambitious undertaking, with a goal of raising $140K (US). To date, they have raised 25% of their goal with 30+ days left to go.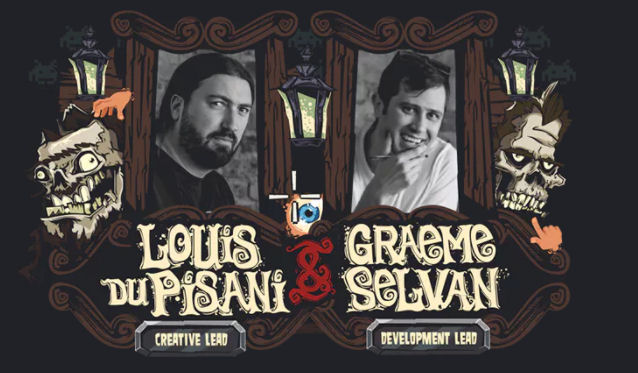 Jengo will be "a point-and-click in the purist old-school tradition." The protagonist is Jeff who is described as a "disgruntled gaming veteran seeking new challenges." In his search for the ultimate game, he ends up at the edge of the Pixelverse in a town called Old Meta. Armed with his mouse and keyboard, he is joined by a cast of bizarre characters as he faces the ultimate apocalypse, head on.
The initial artwork for Jengo indicates it will be presented in comic-book style animation and played from a 3rd-person perspective. Voiceovers and an original musical score are planned. Perhaps the most intriguing aspect of the Fig campaign materials is the verbiage used to describe the project. I found myself laughing out loud as I read about Robot Wizard's plans for this game. It is written with the type of clever wit and dry humor that I find hilarious. If this is any indication of the writing style that will be used for the game itself, count me in!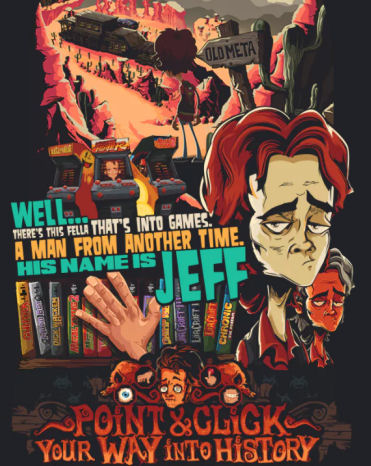 For more information on Robot Wizard and game progress, visit its web site.