Earthworms Review
Earthworms is an engaging, narrative-driven adventure that straddles the line between classic detective story and alien science fiction
Category: Review
Written by: Cindy Kyser on April 21, 2018
Genre: 2D Point-and-Click Mystery
Release date: February 23, 2018
Developer: All Those Moments
Publisher: Big Fat Potato S.A., Ultimate Games S.A.
Platform: Windows
I usually begin a review by doing some research to learn more about the development team. All Those Moments keeps a fairly low online profile so my quest for information did not reveal much. We know only that Earthworms was created by a small group from the All Those Moments studio and they previously worked on platform games like Bouncy Bob. In a total departure from bouncing, their new title is an adventure that straddles the line between a classic detective story and science fiction.
The first puzzle you are faced with is how to set English as the selected language. The game loads with Polish menus and it took a few minutes to figure out which menu options translated to "Options" and "Language." For a moment, I thought it was going to be interesting reading subtitles in a language I do not know! Once English was set, I was ready to roll. 
Our tale begins in the office of Detective Daniel White. He is asked to investigate the case of a young girl who has gone missing on the island of Dar. He sets off to work the case and arrives at the island to find a series of unexplained events involving an invasion by earthworms. These are not your garden variety red wigglers. Instead, they are invasive tentacles that threaten the island. He also finds evidence of human/worm mutations.
In addition to standard investigative techniques, Daniel White has paranormal abilities that give him brief visionary flashes. These appear as a cloud with an image that is triggered by specific objects. Using a combination of conversations with island residents and his detective skills, Daniel stumbles upon a portal that rockets him through time and space to search for the girl in an alternate reality.  Ultimately, he finds the girl, but his adventure is far from over. He proceeds through ancient and alien environments to search for a solution to the earthworm problem.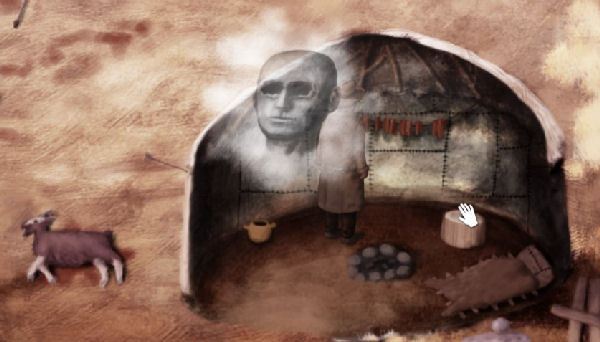 When Art and Music Intersect
What sets Earthworms apart is the artwork by Wojciech Witowski and the music by Piotr Surmacz.  Witowski notes that his paintings are inspired by the works of Edward Hopper  (1882-1967) who is described as "the most important realist painter of 20th century America." Earthworms is presented in (somewhat) monochromatic 2D landscape of Witowski's uniquely detailed paintings, with limited animation. The music is a synthesized mix that ebbs and flows with the mood of each scene.
Dialog is presented as text, without voiceovers. A description of each scene is provided by an opening graphic that appears the first time you enter a new area.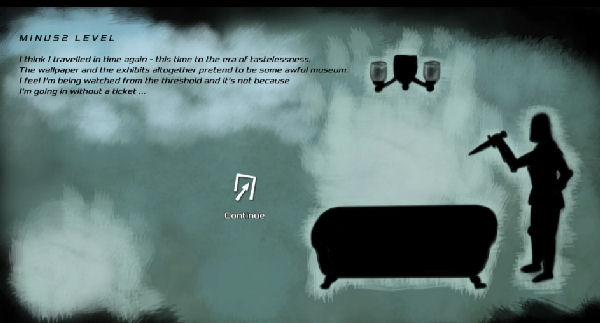 The mechanics are traditional point-and-click, moving Daniel across scenes and through doors by clicking on the desired destination. The environments are filled with inventory to find and use, characters to interact with, and puzzles to solve. A helpful "to do" list is updated as Daniel finds new tasks to accomplish.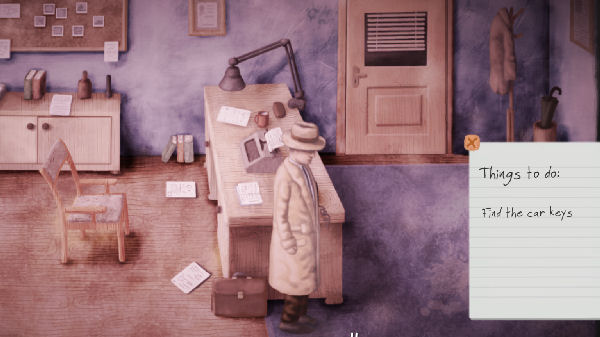 Puzzles are varied and include the traditional "find-and-use" as well as pattern matching, a bit of math, and some mechanical exercises.The puzzles keep the game interesting and I enjoyed the ongoing challenge that they present.

An explicit save and load menu option is available and there are multiple save slots. I would highly recommend that you save your game often and at various points along the way.
Earthworms has three available endings (good, bad, and neutral). Certain actions taken (or not taken) at various points in the game determine which ending you will experience. Evidently, I had performed the necessary tasks to qualify for the "good" ending. However, the game erroneously allowed me to give away an inventory item that was required to access the final portal and finish the story. Since I was on the "good" ending path, access points to the "neutral" and "bad" endings were no longer available. Grrr…
Although I had saved my game regularly, I had overwritten earlier saved games so I could not restore just before giving away the item. Live and learn… After playing for five hours, I was not inclined to start back in the middle and try again. It was easier to just watch the ending that I was denied on YouTube. Although this did not sour my overall opinion of the game, it did drop the score I am assigning.
To summarize, Earthworms is an engaging adventure that I would highly recommend. At the risk of entering spoiler territory, I will issue the following caveat to others. If you find a "strange cube" towards the end, save your game so you will have an option to restore if it disappears from your inventory!
Grade: B+
+ Classic point-and-click adventure with an earthworm twist


+ Diverse set of puzzles keeps things interesting


+ Artwork and music are simply wonderful

– Possibility of plot "dead end" that prevents game completion is not acceptable
 Trailer:
System Requirements
MINIMUM Windows:
OS: Windows XP SP3 / Vista / 7 / 8
Processor: Core 2 Duo 2.0 GHz
Graphics:
GeForce 9800GT or better w /512MB VRAM
Storage: 3000 MB available space
Sound Card: OpenAL compatible
Additional Notes: IMPORTANT: Game was designed for 16:9 monitors; 4:3 format is not supported