Football Game Review
For those who enjoy pixelated adventures and don't mind an ending with unanswered questions, I would recommend Football Game
Cloak and Dagger Games is an indie studio based in the U.K. It is a team of three adventure game enthusiasts: Shaun Aitcheson, John Inch, and Laurie MH. Previous games include The Terrible Old Man, A Date in the Park, and Mudlarks which are all available as freeware. They released the martial arts adventure, Legend of Hand, in September of 2017 as their first retail title. JustAdventure recently reviewed this game and gave it high marks.
In early 2018, Cloak and Dagger released Football Game. It is the story of a high school football player and a date night in 1987 that turns out differently than planned. It is a very pixelated, retro-adventure focusing on a night in the life of Tommy, a local Purchase County football hero. The story follows Tommy as he sets out to meet his girlfriend Suzy at the big game. To say much more about the plot would put me deep into spoiler territory so I will stop there.
Cloak and Dagger describes the game as being "inspired by the music and films of David Lynch." I had to go to Wikipedia to learn that David Lynch is an American filmmaker known for his surreal style that is characterized by "dream imagery and meticulous sound design." His films are reputed to "disturb, offend or mystify" the audience. Having played Football Game, I can see the influences.
The dialog in Football Game is exactly what one would expect from high school students and I found myself cringing at how the game captures the dynamics of kids interacting at that age. It brought back my own not-too-fond memories of cliques, popularity, and hurt feelings.
Football Game uses a classic interface with inventory and menu accessed by moving your cursor to the top of the screen. Game mechanics are blissfully simple – right-click to move or examine and left-click to interact. Interacting with a person results in a conversation that is executed with a dialog tree. There are no voice overs and conversations are presented as on-screen text with cameo pictures of the character. An explicit save system is available with multiple save slots.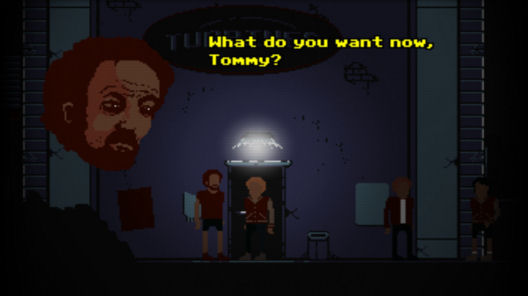 The game features an original soundtrack by Jupiter C, the UK based musical duo of Ashiya Eastwood and David Kane. In addition to the sounds experienced as you play, two full tracks can be selected by loading a cassette while Tommy is driving. The music is excellent and you can choose to extend your driving time if you want to keep listening.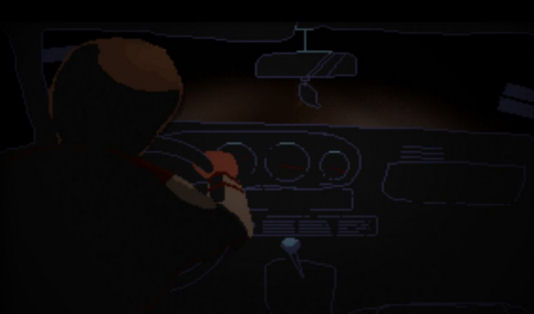 Puzzles are all "find-and-use" as you encounter obstacles to overcome (getting past a teacher to enter a forbidden area) and errands to run (find something to trade for an object you need). They make sense and the game requires thinking but is not difficult. With a minimal price tag, Football Game is a short adventure that took me a little over an hour to complete. Despite its brevity, I did not feel short-changed. In fact, I found myself thinking about the story later and wondering about some of the unanswered plot questions.
My only complaint about Football Game is that it is very dark (as in not much light). I'm quite sure this is intentional on the part of Cloak and Dagger but it made details in each scene difficult to see. Other than that, it is a surprisingly interesting story with an unexpected outcome. It is a story told "in the middle" of Tommy's experience and only hints at the events leading up to his current situation. The end of the game leaves unanswered questions which allows players to "fill in the blanks" with their imagination. This may not appeal to players who want "just the facts, ma'am" but it adds a layer of creativity to an otherwise simple adventure.
Football Game is a well-crafted game that demonstrates the talents of the Cloak and Dagger team. The price is right (about $2 U.S.) and it provides an interesting break from reality. I would recommend it to those who enjoy the retro point-and-click style.
For more information on Cloak and Dagger Games and to access their earlier titles, visit their website. They are currently working a new adventure, Sumatra, which is due out later this year.
+ Surprisingly interesting adventure presented in a pixelated, retro interface


+ Excellent soundtrack, with the in-game cassette feature as a nice touch


– Visually very dark, making it difficult to discern details

Trailer:
System Requirements
MINIMUM Windows:
OS: Windows 7
Processor: Intel or AMD CPU
Graphics: DirectX compatible card
Storage: 250 MB available space
Sound Card: DirectX 9.0c Compatible Sound Card